Imagine entering a banking hall where bank officials are all at your beck and call; ensuring you get value for your time and mission in a jiffy. That's how the new website of FirstBank works…
By Olusegun Oruame
FirstBank has launched a new, fresh and customer-friendly modern website – to provide more information on its innovative digital products, services, and initiatives. The new website is user-friendly and equipped with tools to meet customers' banking and lifestyle needs as online and mobile banking is no longer an allegory. It's a reality that more customers are plugging into to save time, enjoy more convenient banking and get the benefit of real-time transactions.
Click on the new website of FirstBank, and you get functionality, an alluring feel of the information icons as you navigate the site to do your business of banking whether on the web or via a mobile window.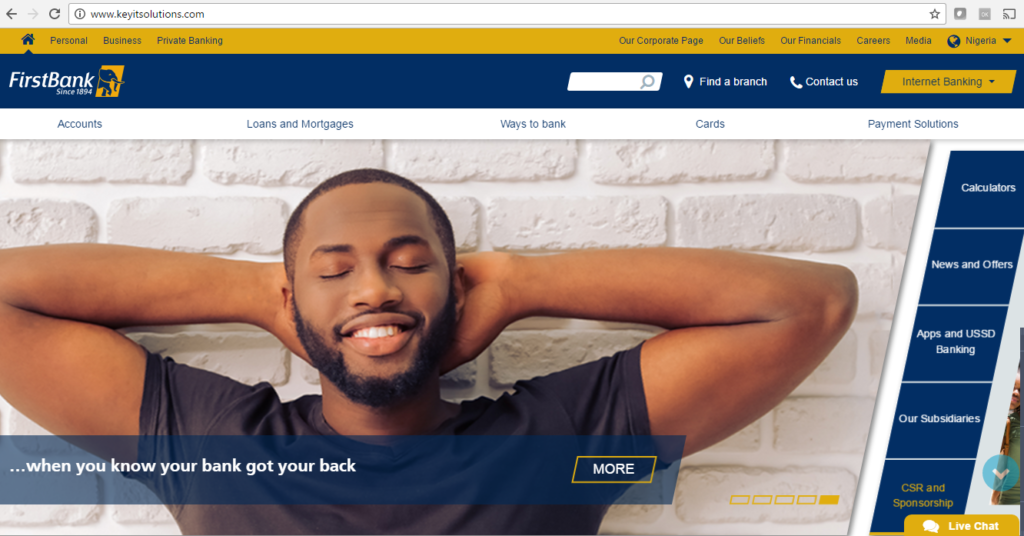 Everyone is welcome – a pleasing digital banking experience
Online or mobile banking has ceased to be a phenomenon that only technology savvies can relate well with. Now, digital banking must come with ease of use functionalities and emotions. What does this mean? Customers must be able to bear testimony that your web or mobile banking makes their lives easier. They can relate with it functionally and emotionally. You get that feeling when you are at the new website of FirstBank.
In a financial services sector that is increasingly becoming saturated with a plethora of digital banking services, a flawless customer experience is critical to winning the customer's confidence to rely on the service and desire to use it repeatedly.
What does the customer get online at FirstBank? A new and customer-friendly website that offers more information on the bank's innovative digital products, services, and initiatives. The homepage has a nice spread of icons addressing the unique needs of respective visitors. The new website is easy to navigate and equipped with tools to meet customers' lifestyle needs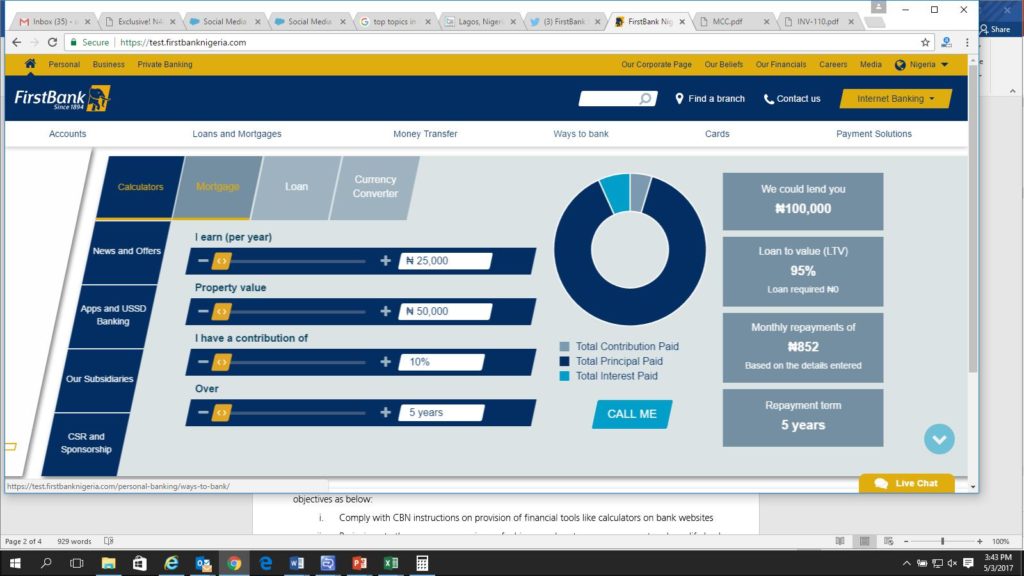 Four things noticeably stand out on FirstBank new website:
Exceptional ease-of-use as the site is designed from the user's perspective. Information is presented intuitively and interactions are structured in a manner that is easily understood and managed.
The consistency of experience regardless of device type whether desktops, laptops, tablets, or smartphones. The aesthetic, content structure and functionality are the same across all delivery channels. The web, app, and mobile experiences all work in a similar fashion.
The site is designed in a way that supports good financial decision-making by offering valuable, contextual-based insights that help customers recognize which financial products and services may be beneficial to their situation. For example, the new FirstBank's site is able to 'integrate rich, fully functional widget, tools and calculators to engage users and enable customers to get what they want with least efforts.' The site features tools that include Mortgage and Loan Calculators, Currency Converters as well as Branch Locators in a way that impacts on how customers take decisions online on products and services.
The new site is built around an Adaptive and Responsive platform with 'rich multiscreen user experiences that make browsing seamless from desktop to laptop, mobile devices and connected smart TV screens; rich and fully functional tools and calculators that are built for the mobile user; Geolocation features connected to Google Maps to guide customers to the nearest FirstBank branch to their location. More importantly, you have a platform that can expand to house more tools in a way that could enhance the value chain for customers.
GETTING IT RIGHT – Having inspired the integration of technology into the banking sector nearly two decades ago with its Century II Project, FirstBank clearly leads the competition with its digital banking services. Thus, the objectives of the new design are to:
Make the site responsive and adaptive to all devices.
Make the site available and accessible to the multiscreen user
Create a user-centered design (Improved usability and experience
Intelligent segmentation of a diverse audience (SME, Affluent, and Youth)
Consistent online brand identity using consistent design, look and feel throughout web, tablet, and mobile
Fully compliant with current web standards and design trends
To Build Online Confidence and Trust – drive confidence in the brand and deliver an excellent user experience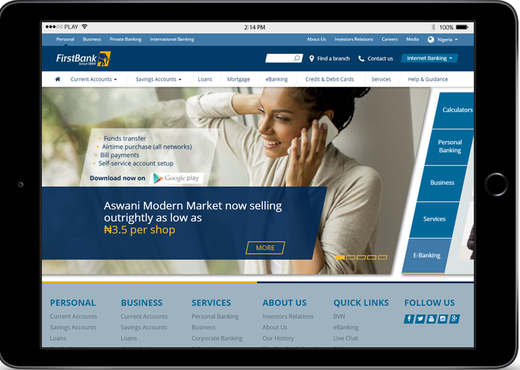 HERE'S A BETTER DEAL – Improved aesthetics and user experience
Simple, clear readable navigation
Perfection in typography and imagery
Aligning look and feel to FirstBank's identity
Consistency in brand alignment across multi-channels
Increased usability & user experience
Combination of photography and graphics to create depth
Immediately intuitive navigation
Big prompts to immediately involve user in process – E.g Call me button prompt on the mortgage calculator that facilitates direct engagement with the Bank; contact us button on home page when accessed from mobile phones, etc
Rich features such as tools and calculators
Mortgage and loan calculator as well as currency converter on the homepage slider
Responsive touch screen features
Intuitive tap, slide, drag, pinch, swipe features to adapt and respond to the tablet user taking advantage of more richer features that come ready made with tablets devices.
The interface is extremely responsive and adaptive.
TAKE CAUTION AS YOU GO ONLINE: Anti-scam message
Do not fall victim to fraud: The Official Website Address is firstbanknigeria.com
Always look at the address bar of your browser to make sure you are on firstbanknigeria.com
To the left of the www.firstbanknigeria.com web address in your browser, you should see a green padlock and the word 'Secure' next to it.
Please note that the Bank will NEVER ask you to click on links to update your banking details, complete or cancel a transaction. The Bank will NEVER ask you to reveal your online banking passwords(s), token number(s) and ATM PIN(s). If you receive any mail or phone call asking you for any of these information note that it is fraudulent. Do not respond no matter the circumstance. You can report to abuse@firstbanknigeria.com