Remember the days when SMS used to be the king of text messages, now WhatsApp has taken the crown. Its ease of usage and the Zero naira price tag on it makes it even more appealing than sending SMSes. With its additional features like Voice/Video calls and new 'Status', WhatsApp is making its platform increasingly difficult to ignore.
By Aanuoluwapo Omotosho
If you use the messaging app, you might want to know more about how you can make sure that your conversations are safe. Here are 5 WhatsApp privacy tips to make texting more secure.
Lock WhatsApp using a Pattern or Password
Probably the best way of stopping someone from opening WhatsApp is to lock it with a PIN, Password or Pattern lock. WhatsApp does not have any built-in app locking available, but getting it on Android is quite easy.
Some Android Phones have built in option to lock apps in App Drawer (the ill-fated Galaxy Note 7 is a good example) However, if your phone does not have one, you can use AppLock to protect your WhatsApp chats.
Hide WhatsApp from App Drawer
If you don't want anyone to know that you WhatsApp, a good way to do it is by hiding the icon completely from the App drawer of your Android Phone.
Again, some phones have built in options to hide apps from App Drawers, if your phone does not have one, you can install a custom launcher from Google Play Store like Apex Launcher
Hide Last Seen Timestamp from others
By default, other contacts on WhatsApp can see the last time you were online in the app. If you don't want anyone to know, you can turn off the Last seen timestamp.
Keep in mind that if you disable your Last seen status on WhatsApp, you will not be able to anyone's Last seen too.
To Hide your Last Seen on WhatsApp on Android or iOS do the following:
Open WhatsApp and click on the three dots on the top right corner to open the menu.
Tap on Settings > Account and then select Privacy.
Under Last seen choose Nobody.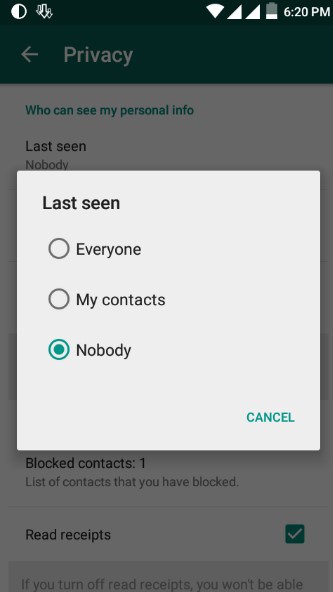 Stop sending read receipts
Anytime you send a message to someone, a double blue check mark indicates that your contact has seen the sent message. As convenient it may be for some people, if you don't what others to know that you have read their message and you have still not replied, you can turn off these Read receipts too.
The catch? similarly to Last seen, you won't be able to see others read receipts too.
To turn off read receipts in WhatsApp go to Settings > Account > Privacy and check off the Read Receipts under Messaging section.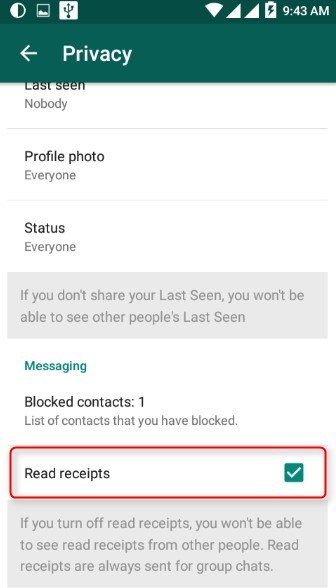 Note that Keep in mind that you can't turn off Read receipts for Group Chats.
Stop WhatsApp photos from appearing in Gallery
Now that you have protected WhatsApp with a password or pattern, you will also like to stop anyone from seeing your WhatsApp images in Gallery. If you are on iOS, you can do it with just a few taps. However, if you are on Android, it is a bit complicated than iOS
On iOS, Go to phone's Settings > Privacy > Photos and then deselect WhatsApp from the list of apps whose images are saved into the Gallery.
On your Android phone, You will need a file manager, if you don't have one on your phone, ES File Manager is good enough and it is free.
Open the file manager and then navigate to Internal storage. Now go to WhatsApp > Media> WhatsApp Images and WhatsApp Videos folder. Then create a file within each folder called '.nomedia'. This will stop Android's Gallery from scanning these folders.
Lost your Phone? Deactivate WhatsApp
At one time, WhatsApp can only use one mobile number. You can use it to stop anyone from accessing your WhatsApp if you have lost your phone. If you have lost your phone, you can
Just get a duplicate SIM with the same number and activate WhatsApp from the new SIM card. WhatsApp on your lost phone will stop working immediately.
Apart from the above, do you have any other WhatsApp privacy tips that other readers should know about? Share with us in the comments below.
Credits: Getting Geek