By Aanuoluwapo Omotosho
If there is one thing most successful brands in Nigeria have in common, it is the act of being consumer-centric. They understand the digital age that now exists. They understand the power the online media has given consumers to share their positive or negative thoughts about them. Seeing that it would be nearly impossible for brands to overlook the importance of their consumers and the major role they play in elevating or defacing their reputation, they seek out social media monitoring technologies that can keep them up to date on the online conversations surrounding them.
So, what exactly do brands seek from social listening technologies?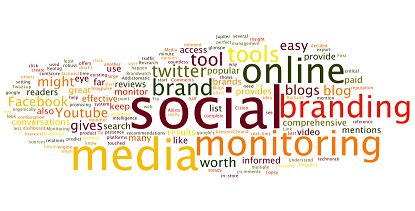 Volume of Conversations
Brands want to see ALL conversations about them online and not just from Twitter, Facebook, and Instagram. They also want to see mentions from forums, blog sites, Youtube.
Brand Advocates
Brands want to see who their true brand advocates are. I am talking about fans that sincerely love the brand or are satisfied with their services. They may not have a huge following online but they are brand loyalists. These are the guys, brands want to engage with on a deeper level, probably reward them for their honest positive remarks about them.
Top Publishers
Brands want to see who their top publishers are. They might probably know most of their publishers, but most importantly, they want to see those that are fetching them the highest reach and spread. This isn't impossible. I have worked with tools that can rank a brand's top publishers based on their influence scores, Alexa ranking and the reach of their posts.
Negative Vs Positive mentions
Brands want to see when their negative mentions surpass their positive mentions. Usually, what we analysts see most times are brands having a greater percentage of neutral sentiment than any other sentiments. Now, the focus is on both positive and negative. If their negative mentions are more than positive, they want to know, and analysts/marketers should be ready to recommend a solution
Share of Voice
Brands want to see where their organic conversations are occurring the most so as to drive their campaigns on that platform and they also want to know the most common hashtag used by their audience.
Alerts
Brands want to be alerted immediately when something out of the ordinary occurs online like a trend.
Demographics / Psychographics / Location
Brands want to see the demographics, psychographics of their audience and also geographical locations. For locations, this might be limited due to when a person's location setting is enabled or not. For demographics, brands want to know who their audience is in terms of gender and age and psychographics, in terms of interests, attitudinal words.
Competitor Analysis
Brands want to see how they perform against their competitors in terms of valid mentions, conversations, sentiments, reach, etc…
Potential Influencers
Brands want to see who can be their potential influencer based on their Klout score and other attributes.
Historical Data
Brands want to be able to trace their data back to at least 5 years ago…
Visual Listening
Brands want to see where their images, logos have been used