By Anthony Emeka Nwosu
Google yesterday introduced Google Street View in Nigeria, with Lagos as the pioneer state. Google Street View on the Google maps will provide panoramic views of Lagos to the whole world.
Speaking at the Google for Nigeria event held at  Landmark Center Lagos, the Google's Country Manager for Nigeria, Juliet Ehimuan said "Today we're launching Lagos on Street View, with 10,000 kilometres of imagery, including the most important historic roads in the city. You can virtually drive along the Carter Bridge to the National Stadium, or across the Eko Bridge, down to the Marina–all on your smartphone".
The online search giant, also announced that it has launched e medicine, a mobile app that will bring medical services nearer to the people. This is in collaboration with the University of Ibadan. Lagos State is the first city that is featured in Africa.
Google for Nigeria event hosted the Google CEO, Pichai Sundararajan who was on his first visit to Nigeria as a Google CEO.  In attendance were the ICT industry stakeholders and a host of other industry stakeholders. Also in attendance were Mark Angel film, Oby Ezekwesili and a host of people.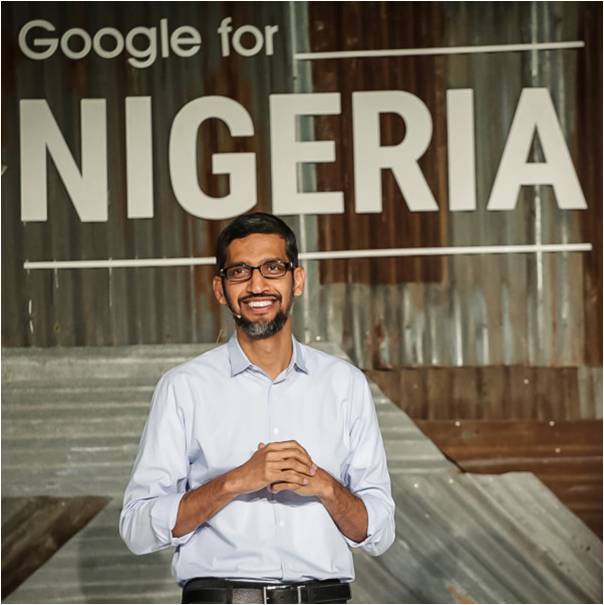 In his keynote address, Google's CEO Pichai said that thousands of streets, lanes and roads have been outlined for this application, with over a million buildings and landmark incorporated in the application.  Google said it has also added more than 100 thousand additional Nigerian businesses to the map, thus,  putting Nigerian start-ups in the global map.
The search giant has earmarked over 3 million dollars for capacity building in Africa, with plans to train up to 10 million people in Sub Saharan Africa. Google also targets to train 100 thousand Africans in its mobile developer training to develop world-class apps, with focusing in key countries like Nigeria, Kenya and South Africa.  While Google.Org charity arm will be committing $20 million over the next five years to nonprofits that are working to improve lives across Africa.
Google recently disclosed its global Launch-pad Accelerator programme. The Launch-pad Accelerator Africa initiative is to provide support for African entrepreneurs in building successful technology businesses and products.
Google announced it will provide more than $3million in equity-free funding, mentorship, working space and access to expert advisers to more than 60 African start-ups over three years.
And also setting up a new Google Launchpad Space in Lagos, which is the programme first location outside of the United States.
Google also used the occasion to unveil other innovative products such as Gboard; a virtual keyboard that incorporates local languages such as Igbo, Hausa and Yoruba. A lighter version of YouTube known as YouTubego, an app that helps Nigerians to minimize their data cost and have the videos downloaded and sent offline.  The search giant recognized Mark and Emmanuella for hitting one million subscriber base in their YouTube channel.