By Oluwatobi Opusunju
Nigeria's telecom sector remains a major contributor to the country's economy despite FOREX and multiple tax hiccups. The sector beefed up the GDP with N1.549tn in the second quarter (Q2) of this year; a 6.68 per cent rise over the Q1 figure of N1.452tn – significantly helping Africa's largest economy in its measured walk out of recession.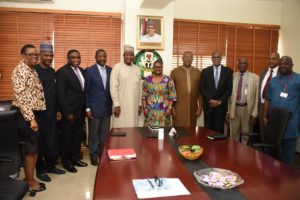 Telecoms regulator and Executive Vice Chairman of the Nigerian Communications Commission (NCC) Prof. Umar Danbatta, announced yesterday, in Abuja that the sector's performance formed part of the National Bureau of Statistics (NBS) report on the health of the economy.
The NBS recently officially announced that the country was out of recession in its new report as the economy was no longer contracting and had for the first time in months, notched up growth of 0.55 per cent in the second quarter of 2017.
According to the NBS, ten sectors; majorly telecoms, agriculture, financial services and petroleum helped to push up growth. Others are construction, manufacturing, real estate, trade, education, and transportation.
"The NBS report has confirmed that the telecommunications sector, during the second quarter of 2017, contributed 9.5 per cent to the GDP in contrast to 9.1 per cent contribution in the first quarter of the year. We are very proud of the remarkable contribution the sector is making. Even in recent times when the whole economy was facing challenges, the sector remained resilient and stable," said Danbatta while hosting the Chairperson of the Liberia Telecommunications Authority, Madam Angelique Weeks, and a team of administrators from the West Africa Telecommunication Regulators Association (WATRA) on an official visit to the commission's headquarters in Abuja.
Prof. Danbatta said the NCC appreciates the excellent job WATRA is doing in fostering collaboration in the West African sub region and promised the support of the Commission in WATRA's plan to have a permanent office complex in Abuja. He revealed that NCC is developing a framework for spectrum trading in line with Management's 8-Point Agenda. "Once the framework is approved, operators will no longer be allowed to keep spectrum that are not being utilized" Danbatta declared.
He said that the vision of the Commission is to bring telecom to the doorsteps of Nigerians so that access to telecommunications services is not hindered by physical boundaries in consistent with what is happening all over the world.
Danbatta said broadband penetration in Nigeria is over 21 percent and internet access is on the rise while he assured that NCC will not rest on its oars but will continue to improve on its regulatory operations.  "Broadband penetration in the country currently stands at 21 per cent, as Nigeria is inching toward 30 per cent penetration next year, which is in line with its national broadband target. The monthly data usage is about 40 million terabytes," said Danbatta.