By  Tobi Opusunju
ITU honors NCC as "valuable partner" at ITU Telecom World events
Telecom regulator partners Umaru Ali Shinkafi Polytechnic, Sokoto  on skill development
Three Nigerian innovators have been honored with the "Recognition of Excellence" award at the International Telecommunication Union (ITU) Telecom World forum for their innovative ICT solutions that's geared towards solving social economic problems. The world superintendent of telecommunication says "it is proud to recognise the innovators' excellence in providing and promoting innovative ICT solutions with social impact."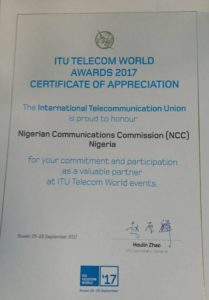 Similarly, the ITU also honored NCC with a recognition award, saying "the Union is proud to honor NCC for her commitment and participation as a valuable partner at ITU Telecom World events."
This statement is contained in a certificate of appreciation signed by Mr. Houlin Zhao, ITU Secretary General, and issued to NCC.
Meanwhile, as part of efforts towards developing capacity in staff and enhancing research, the Umaru Ali Shinkafi Polytechnic, Sokoto  in collaboration with the Nigerian Communications Commission (NCC) has trained about three hundred staff with requisite IT and digital skills.
Professor Aminu Ibrahim who is the institution's Rector disclosed this while speaking with journalists in Sokoto. According to him, in 2016 over 500 staff and students of the institution were trained on specialized entrepreneurship skills while 150 academic and senior non-academic staff benefited from another ICT training program within same period.
"We are trying to upgrade our practical sessions to have 100 percent coverage of practical, especially science and engineering, entrepreneurship, this is deliberately done to make sure we impact as much skills as it is humanly possible to this young men and women so that by the time they graduate, they would be useful to themselves and to community," he said.
Going by the increasing job opportunities that abound in the ICT sector, industry leaders have often stressed that tertiary institutions have a major role to play in addressing the challenge of the current digital skill gaps confronting the country.
In a bid to bridge these gaps, NCC through its Advanced Digital Appreciation Programme for Tertiary Institutions (ADAPTI) has made huge impact in terms of bridging the ICT skills gap of teaching and non-teaching staff of tertiary institutions in the country.
Also, DBI has till date been able train over 6,000 workers drawn from universities, polytechnics, colleges of education, medicine and private tertiary institutions.
Additionally, Prof. Aminu noted that the polytechnic has collaborated with various organizations and institutions such as TETFUND, NBTE, NCC and the state government among others towards enhancing facilities and human resources development.