By Oluwatobi Opusunju
The Director General of the National Automotive Design and Development Council (NADDC), Mr. Jelani Aliyu is confident that 60% of vehicles sold in Nigeria will be produced locally by 2021, four years from now.
Aliyu who is globally renowned for designing the General Motors' (GM) Chevrolet Volt (Chevy Volt) before his appointment by President Muhammadu Buhari in May 2017 to lead the Nigerian automotive industry made this known during a recent chat with IT Edge News in Abuja.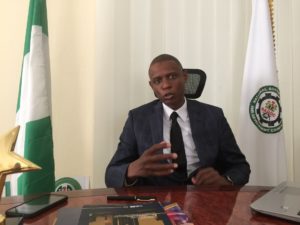 According to him, the plan to make Nigeria self-sufficient with locally built cars is coming as part of his agenda for the Council in the next four years.
"The percentage of vehicles that is assembled either completely knocked down (CKD) or semi knocked down (SKD) in Nigeria is very low and in four years' time, I hope to have at least 60% of the number of vehicles being sold in Nigeria to be produced in Nigeria," he told IT Edge News.
According to the Nigerian Content Development and Monitoring Board (NCDMB), Nigeria has lost about $380 billion to capital flight as a result of Nigerians apathy for locally produced products and services, a development that has stalled Africa's largest economy and making it vulnerable to foreign exchange shocks.
However, a 'buy Nigeria' policy by the current government is helping to achieve an attitude change to put less pressure on the country's FOREX. Aliyu believes once support infrastructures and policy that include regular power supply, customs eccentricity against local car manufacturers, and lower taxes are put in place, the sector will boom favouring locally produced vehicles over imported substitutes.
Already, to invigorate the local content blueprint and make it sustainable, Aliyu said a top priority at the NADDC is to establish a dedicated Automotive Design and Innovation Institute where young Nigerians can be trained on innovation and design as well as be able to compete globally with other design professionals.
"We will have a dedicated Automotive Design and Innovation Institute where young Nigerians could go and come out; and be as good if not better than any automotive development professional around the world… These graduates will feed into the Nigerian automotive sector and be the ones creating, designing and developing Nigerian vehicles for Nigerian production," said Aliyu.
The NADDC also has its eyes on electrified vehicles so as to be in tune with the rest of the world. Globally, many countries will be phasing out the production of fossil fuel cars in less than half a decade from now to put pressure on countries to simply leapfrog into the production of electrified cars.
"NADDC is beginning to look at electrified vehicle policy to see how we can support the development of electric vehicles, to boost the manufacture of electric vehicles in Nigeria and also come up with incentives that will help both the manufacturer and buyer of electric vehicles because we can't be left behind," said the NADDC's boss.