US, Indian, German investors seek opportunities for business
By Aanuoluwa Omotosho and Oluwatobi Opusunju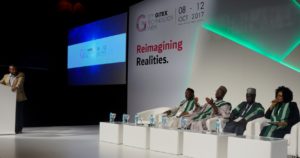 The Africa Investment Forum jointly hosted by the Dubai World Trade Centre (DWTC) and the National Information Technology Development Agency (NITDA) as one of headline events of GITEX 2017 offered a great opportunity for Nigeria's delegation led by the Director General of NITDA, Dr. Isa Ali Ibrahim Pantami to engage the global investment community on investing in Nigeria.
In a make-case investment panel consisting of the NITDA's boss Pantami, MD/CEO, Galaxy Backbone Ltd, Mallam Yusuf Kazaure; Chairman, House Committee on ICT, Hon Mohammed Ogoshi Onawo; and Managing Director/CEO, NIGCOMSAT Ltd., Ms Abimbola Alale,  the public sector stakeholders asked the audience consisting of nationals of more than 30 countries to explore the vast untapped potential for Information and  Communications Technology (ICT) investments in Nigeria.
Majorly, investors' inquiries came from the United States of America, Indian, Germany, and Norway, wanting to know how to engage the potential, how to know who to rightly engage and where to go to in seeking for information, collaboration and investment guidance. The panelists had the task of leading the engagement in the highly interactive forum.
In his remarks at the forum, Dr. Pantami said there was an enabling environment created by President Buhari administration's to endear the country to investors this include the Presidential Enabling Business Environment Council (PBEC), for businesses to thrive in Nigeria. Pantami spoke to address the misconceptions about doing business in Nigeria especially in the area of security of life and property, stressing the problem of insecurity has been significantly addressed and that investors have safe business operations contrary to false information on the Internet.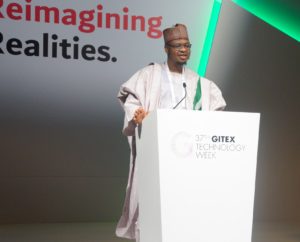 In addition, entry visa has been further relaxed to open the country to prospective investors, and offshore investments have risen in response to an improved environment for investors. According to Pantami, ICT sector currently contributes 11.27 percent to the total nominal GDP in the 2nd Quarter of 2017, stressing that while they are guaranteed better returns on investment, Nigeria will also benefit by boosting her GDP contribution from IT through such investment. While offering the investors insight into the potentials of the Nigerian economy, Pantami said towards increasing the broadband penetration in Nigeria to 30 percent by 2018, the country has developed a comprehensive National Broadband Plan (NBP).
His words: "We see a good potential for growth in the sector and we are creating an environment that can significantly increase the sector's contribution to the nation's GDP. As such, this is a good time to invest in our ICT sector and we invite you to partner with us in this season of growth."
The trio of Kazaure, Onawo, and Alale agreed with Pantami. For Kazaure, Nigeria investment space has repeatedly offered higher RoIs for investors; Onawo believes that the legal frameworks have remained dynamic and responsive to investors' needs as legislators increasingly become more aware of the need-areas to encourage and protect investors from a legislative perspective. Alale believes the market is becoming more liberalized to further breed competition and open the arena for both global and local investors to best explore the inherent opportunities for business.
According to Pantami, NITDA has an Office of ICT Innovation and Entrepreneurship (OIIE) which hunts for talents and support promising Nigerian startups in the ICT. "The activities of the OIIE have enabled the ICT startup innovation ecosystem in Nigeria to grow at a remarkable pace. One of our startups- Genie Games- won the 2nd position at the keenly contested Startup Movement Competition at GITEX 2016.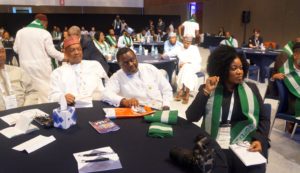 "Many Nigerian startups have also won commendations from home and abroad.  For example, HopStop, an online city transit App acquired by Apple for a whopping $1 billion, was owned by a Nigerian-born Entrepreneur. Mark Zuckerberg, the CEO of Facebook, visited Nigeria last year and had very complimentary things to say about the quality of ICT talent in the country.  His foundation also provided $24 million funding for Andela, a Nigerian company focused on building world-class software development teams.
"Konga.com, a Nigerian e-commerce company, attracted over $65 million funding in 2014.  Also, out of a record-breaking total of $366.8 million raised by African startups in 2016, investments in Nigerian startups had the largest share of $109.4 million.
"These investment stories underscore the viability of the Nigerian startups and the capacity of Nigerians to conceive ingenious ideas. We invite you, our potential investors, to take advantage of this massive talent pool as you invest in Nigeria," he added.
Pantami added that more than 50 percent of what potential investors needed to assemble product towards localising and domesticating their IT investments can be sourced from Nigeria, saying there is tax-friendly policy to support the investors in Nigeria.