By Oluwatobi Opusunju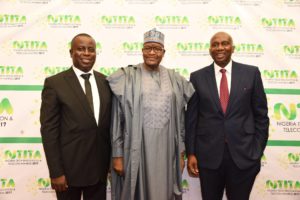 The Nigerian Communications Commission (NCC) has reiterated its commitment towards ensuring high speed broadband connectivity in the country. The Executive Vice Chairman (EVC) NCC, Prof. Umar Danbatta while giving a key note speech at the Telecom Executives and Regulators Forum (TERF), which held at the weekend in Lagos, highlighted various initiatives through which the commission will further deepen broadband connectivity to end users, even as the country is targeting 30 percent broadband penetration by 2018 and has crossed the 21 percent mark to bring it close to its 2018 target.
Read: http://itedgenews.ng/2017/08/25/ncc-cpc-strengthen-partnership-improve-quality-consumer-experience/
Danbatta also emerged as the 'Telecom Man of the Year' at the two day ceremony – the opening day for conference and the second day for the highly coveted Nigeria Technology Innovation and Telecom Awards (NTITA) 2017.  While the individual 'Telecom Man of the Year' award went to Danbatta, the NCC as a corporate institution bagged the 'Consumer Initiative Project of the Year Award.'
"The NCC will continue to drive and support high speed broadband connectivity to end user through various initiatives," said Danbatta at the opening day TERF to the country's telecom stakeholders; adding: "Presently, as regards to Nigeria's broadband infrastructure, there are adequate international bandwidth from international submarine cable landings at our shores, inadequate metro fibre infrastructure in several towns and cities, distribution and last mile challenges, over 50,000km of inter-city fibre laid already, sub-optimal inter-city fibre capacity utilization due to duplications of some fiber routes as well as internet access is mainly through wireless means."
Also Read: http://itedgenews.ng/2017/08/09/ncc-fishes-investors-nigerias-broadband-internet-itu-world-2017/
Dubbed 'Next Generation Broadband Initiative', the regulator plans for affordable broadband include licensing InfraCos (infrastructure companies) on a regional basis to provide metropolitan fibre and wholesale transmission services on a non- discriminatory, open access and price regulated basis as 2.3GHz spectrum has been licensed for wholesale wireless last mile services already.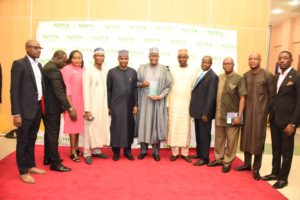 The commission will also be engaging government at various levels to facilitate speed in processing permits, harmonization of tax regimes and ease of deployment of infrastructure, including streamlining right of way (RoW) charges.
Also Read: http://itedgenews.ng/2017/06/23/ncc-eyes-five-new-infracos-presses-bill-protect-telecom-infrastructures/
The regulator plans to further enhance competition in the market and improve consumer choices, institute price caps for leased transmission capacity to address anti-competitive pricing as well as auction and assign required spectrum for wireless and mobile broadband on an open and transparent basis.
Danbatta further stated that the key objectives of the 'NCC's Broadband Initiative' is to achieve high level of broadband penetration across all geo-political zones in the country, ensure competitive and affordable pricing of high speed broadband internet, position Nigeria as a leading infrastructure hub in Africa, ensure development of smart incentives to support industry players and also contribute to the growth and development of a knowledge economy in Nigeria.