By Oluwatobi Opusunju
Director-General/CEO of National Information Technology Development Agency (NITDA), Dr. Isa Ali Ibrahim (Pantami) and the country's chief IT  officer, is billed to lead the conversation on Infrastructural Challenges, Disruptors and Regulation at this year's 9th edition of the West Africa Convergence Conference (WACC 2017) with a positional presentation on "Disruptive Technologies and Limits/Challenges of Regulations.'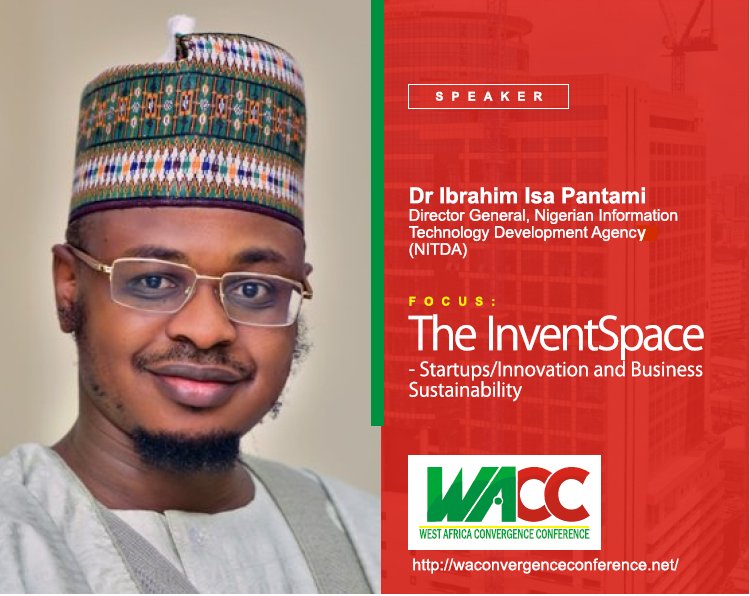 Participants have a rare opportunity to hear and share government's stance on the evolving trends in technology across industry verticals and how public sector policy on IT will impact businesses and growth. Since assuming office last year, Pantami has sought to reset NITDA as regulatory driven and not administrative or project focused agency. There have been greater efforts to ensure IT activities and projects of government ministries, departments, and agencies (MDAs) conform with procurement laws to guaranty the strong value proposition and savings on such projects. Pantami will be engaging stakeholders on NITDA's continuous plans for the sector.
The panel is featuring industry leaders that include the Managing Director/CEO, NigComSat Ms. Abimbola Alale who will share insights on the dividends of "Leveraging on NIGCOMSAT 1R to drive New & Emerging Services," the  MD/CEO, Galaxy Backbone Ltd., Mallam Yusuf Kazaure holding talks on "Convergence, Connect Infrastructures and the Public Service," the President of the Association of Telecom Companies of Nigeria (ATCON), Mr. Olusola Teniola, who from operators' perspective is taking a critical look on "Convergence and the Infrastructure Challenges" alongside the CEO of  Medallion Limited, Mr. Ike Nnamani.
WACC is holding on the 29th of November at the Sheraton Hotel & Towers, Ikeja, Lagos, with the theme: "Convergence & the New Deals: – Entrepreneurship & Employability". WACC begins at 8 AM. Registration is at www.waconvergenceconference.net.
Other sessions for the Conference include 'Convergence and the Future of Work', sponsored by Medallion Limited, ICS Limited, and PFS Limited; 'Convergence and the Automobile Industry', sponsored by National Automotive Design and Development Council (NADDC); 'The InventSpace' which is focusing on Technology Convergence and the Startup Ecosystem and being sponsored by the NITDA, NIGCOMSAT and Galaxy Backbone and 'Convergence, Governance and Citizens Engagement,' sponsored by Qitech Technologies Limited and Smart Web.
Pantami will also be sharing moments with startups on leveraging on national and global opportunities in The InventSpace' session focusing on Technology Convergence and the Startup Ecosystem.
As part of activities lined up for the Conference, WACC 2017 will also feature the Convergence Tech Leadership Recognition awards, targeting the recognition of industry leaders helping to promote awareness, industry, and policy in the converged space.
WACC is promoted by Knowhow media International as an all-stakeholders forum on convergence trends in West Africa. WACC official tweet-point is #WACC2017.