By Oluwatobi Opusunju
As technology continues to converge across industry verticals with an increasing need to thicken the value of entrepreneurship and employability, the Chairman ICT Committee at the Federal House of Representatives, Hon. Mohammed Ogoshi Onawo has said the development of technology skills in the country, especially amongst the teeming youths will help to harness the new deals of convergence and grow the economy.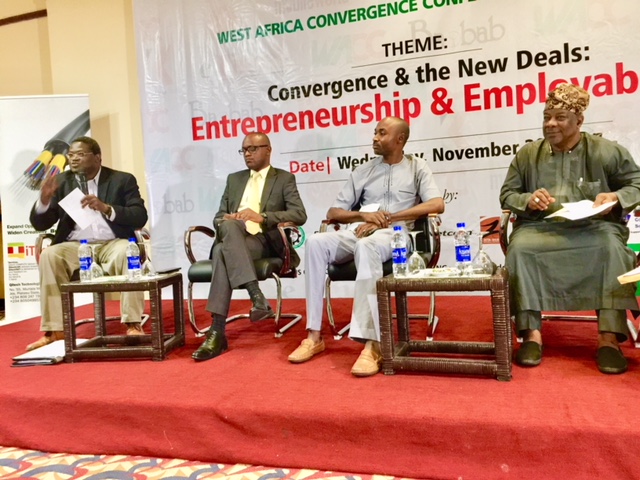 Hon. Onawo made this known at the just ended West Africa Convergence Conference (WACC) organized by knowhow Media and Marketing Intelligence International Ltd. (KMMIIL) which was held at the Sheraton Hotels and Towers, Ikeja, Lagos.
While keynoting the major theme of the Conference − "Convergence and the New Deals: Entrepreneurship and Employability", Hon. Onawo who stated that at least, around 1.8 million youths enter the labor market every year stressed the need to enhance our "state of preparedness for the converged space through digital skills development as convergence is already enabling new forms of work and altering the structure of jobs.
"We must, therefore, join hands to thicken the value for skill and new career training, expand the portfolio of opportunities for employment and businesses; encourage innovation and drive more flexible forms of employment and work," he said.
Without skills development, Nigeria cannot develop and she further risks building an army of disgruntled and angry youth to undermine her national security. "Skills development that is aligned with industry requirements is a catalyst that can ensure economic growth; and skills adequately channeled at meeting changing dynamics of an industry or an economy, imply the ability to foster new careers that can contribute positively to the economy," he added.
Hon. Onawo who was addressing participants at the industry stakeholders packed event further noted that as technology convergence is re-ordering the labor markets and making it more innovative, there's need for collaborations between the public and private sector, both local and global to help us as a country fully leverage its dividends in businesses and employment.
"Individuals, companies, and governments must re-strategize to be able to reap the benefits of these changes. As a country we must begin to seek new partners; local and global, to help us advance the new technology agenda influencing employment and businesses," he noted.
"We must maximize the positive impact of technology and industry convergence on employment and businesses. We must get everyone involved, policymakers, business operators and regulators, medical practitioners, educationists and trainers, manufacturers and innovators, legislators and other stakeholders," he added.
He said convergence is often seen as exerting pressure on solely on the regulatory systems, but it is not so, as the World Bank has noted that the human capital systems, social systems, and financial systems are equally being refined. So in all these fronts, we must all be alert and ready to exert the necessary change for good.
Conclusively, Hon. Onawo who said he was at the event to assert the position of the House of Representatives and by extension, that of the National Assembly on behalf of the Speaker of the House,  explained to participants that the legislative chamber recognize its role in setting the tone to encourage the growth of new opportunities for Nigerian citizens who must leverage on technology to be productive and globally competitive, and the legislators do not shy away from encouraging this new direction and new way of thinking within the confines of the knowledge economy.
WACC holds annually as an industry-sponsored event. This year event drew speakers from the public and private sectors that included: Director-General/CEO, National Information Technology Development Agency (NITDA) Dr. Isa Ali Ibrahim (Pantami),  Director General of National Automotive Design and Development Council (NADDC), the Managing Director/CEO, NigComSat Ms. Abimbola Alale, MD/CEO, the President of the Association of Telecom Companies of Nigeria (ATCON), Mr. Olusola Teniola, Country General Manager for IBM Nigeria, Mr. Dipo Faulkner,  and the CEO of  Medallion Limited, Mr. Ike Nnamani.
Others are Prof Samuel Zalanga of Bethel University, Minnesota, Dr Peter Sesan Abraham of the University of Jos,  MD/CEO of PFS Limited, Dr. Yele Okeremi, Managing Director of  Interconnect Clearinghouse Nigeria, Mr. Oladele Ayanbadejo,  Chairman of Sidmach Technologies, Mr.Chijoeke Eke, Mr. Kaecy Udumukwu and  Mr Olusoji Oyawoye of Resource Intermediaries Limited.