By Oluwatobi Opusunju
The Nigeria Communications Commission (NCC) is finalizing subsidy agreements with two of Nigeria's infrastructure companies: MainOne, and IHS Services Limited for the Lagos and North Central Zones respectively in a way that would facilitate affordable access to more than 30 million Nigerians as part of the agenda to speed up Nigeria's broadband target for 2020.The NCC made this known at the recent West Africa Convergence Conference (WACC 2017) in Lagos.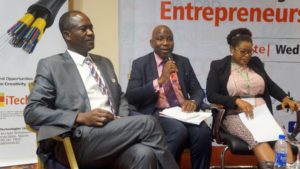 "The Commission is finalizing subsidy agreements with two companies Main One, and IHS Services Limited for the Lagos and North Central Zones respectively to facilitate the roll-out of broadband services," said EVC/CEO of the NCC, Professor Umar Danbatta to an audience that included the Chairman of ICT, House of Reps, Hon. Mohammed Ogoshi Onawo; President of  Association of  Telecoms Company of Nigeria (ATCON), Olushola Teniola; the Director General of the National Information Technology Development Agency (NITDA),Dr. Isa Ibrahim Pantami, Managing Director of Nigcomsat Limited, Ms Abimbola Alale and a host of global IT companies and operators that included satellite companies and interconnect clearinghouses.
The subsidy agreement is a Public-Private Partnership (PPP) scheme in the provision of price regulated broadband services in Nigeria.
Nigeria's bandwidth challenge is underscored by huge bandwidth presence at the shores facilitated by undersea cable companies such as MainOne and Glo-1 with more than 19.3 terabytes of bandwidth largely unused due to absence of connecting last mile infrastructures.
Nigeria's internet presence is heavily depended on mobile services. As at today, "Nigeria's Active Mobile Broadband Penetration has reached 21.8 % relative to less than 10 % 2 year ago. Percentage of Broadband Internet Penetration has reached a milestone of 47.44 % with about 93 million people having access to internet. The current teledensity stands at 99.93%," said Danbatta represented by the Director of Spectrum Administration, Engr. Augustine. K. Nwaulune.
Broadband within the Nigerian context is defined as an internet experience where the user can access the most demanding content in real time at a minimum speed of 1.5Mbits/s (NBP). Broadband with telecom infrastructure is deemed to be a critical national infrastructure just like power, road and water networks, said Danbatta. It is, therefore, important for the country to adopt a broadband rollout scheme that will attract both local and international interests.
"By 2020, Nigeria will have a large, strong, diversified, sustainable and competitive economy that effectively harnesses the talents and energies of its people and responsibly exploits its natural endowments to guarantee a high standard of living and quality of life to its citizens". Part of Nigeria's Broadband Vision (Vision20:2020), under the National Broadband Plan (NBP), is to be among the top twenty World Economy by 2020.
"Broadband demands from citizens are growing by the day as technologies converge," said Danbatta, adding: "the result is that new multimedia applications evolve, giving rise to high bandwidth requirements and the need for expansion of networks. To meet these requirements, administrations are focus on policies and regulation that enable Broadband deployment. These policies and regulations also focus on deployment of modern, efficiently, adequate, cost effective, universal and easily accessible broadband infrastructure through the provision of strong regulatory frameworks among others.
"Convergence is the delivery of telecommunications, information technology, broadcasting and other media technologies, sectors and services that were hitherto operating in parallel and independent of one another now on the same platform
"Convergence enables established companies to increase in efficiency, have greater returns on technology investments, realize other business benefits through development of new services and rapid market expansion, open up new sales markets, drive revenue growth, create jobs, and generally impact on socioeconomic advances.
While there has been arguments over what approach the regulator should adopt on technology convergence, Danbatta said, the NCC's position is to have an engaging and open attitude to innovation and disruptive technologies in the realization that it's in the market interest to encourage innovation.
His words: "Emerging technologies are innovations driven by convergence which facilitate creation of new markets, value networks and businesses; improves products and services in innovative ways that the market never anticipated. Acknowledged as the most important development essential for socio-economic advancement and well-being of any nation. Some of the technologies are: Mobile Internet, Internet of Things, Cloud Technology, Artificial Intelligence (AI), Robotics, autonomous and near autonomous vehicles, Automation of knowledge work, etc."