By Oluwatobi Opusunju
It's a double for the Founder and Chief Executive Officer of Precise Financial Systems (PFS) Limited, Dr. Yele Okeremi. On Wednesday, November 29 at the West Africa Convergence Conference (WACC 2017), Okeremi was given the Convergence Technology Leadership recognition award, the following day,  he emerged as the IT Personality of the Year at the National Information Technology Merit Awards (NITMA 2017) organised by the Nigeria Computer Society (NCS). The WACC is organised as an industry-sponsored annual event by Lagos based Knowhow Media and Market Intelligence International Limited (KMMIIL). The NCS is the umbrella body for all computer/IT professionals in Nigeria.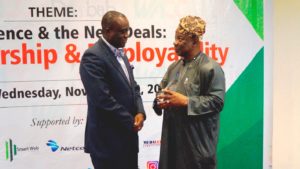 Yele, who has championed digital changes in the financial sector and local content through his software company, was honoured at the separate events for his contributions to the Nigerian Information Technology sector.
Yele, a former board member of the National Information Technology Development Agency (NITDA), is a Microsoft Certified Systems Engineer and a member of the Presidential Initiative for developing the software industry in Nigeria. Within 23 years, he grew PFS into a multi-million dollar company from a startup fund of N8, 250. His tenacity has helped to imbue faith in the country's budding fintech sub-sector.
Before PFS, Yele had a successful professional career starting at Inlaks Computers, from where he moved to Industrial Bank Limited (Merchant Bankers) as a programmer/analyst. He rose to become Chief Information Officer of the bank and then left for Ventura Savings and Loans Limited as the Head of Systems and Logistics department.
He is the first Vice President of the Institute of Software Practitioners of Nigeria (ISPON) having previously served as Chairman Legal and Legislative Committee of the Institute.