By Oluwatobi Opusunju
Medallion Communications Limited, one of Nigeria's largest telecom infrastructures companies, has listed the challenges facing infrastructure in Nigeria and why the industry has not been able to leverage the benefits of technology convergence.  "Lack of carrier-neutral peering points and interconnection centers; lack of adequate transmission network – local and long distance; and lack of finance to acquire adequate core network equipment have undermined the ability of operators to fully optimize the benefits of technology convergence, said Chief Technical Officer of Medallion Communications Limited, Mr. Krishnan Ranganath, while speaking at the recent West Africa Convergence Conference (WACC 2017) in Lagos on 'Convergence and Infrastructure Challenges.
In addition, "lack of regulation on OTT and mobile money services means operators are still not willing to commit network infrastructure for converged services" until there's a clearer regulation pathway on what the regulator would adopt on OTTs and other disruptive technologies.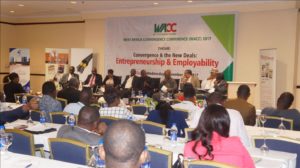 Ranganath said while Nigerians have started harnessing limited benefits of convergence, but end-customers are getting the advantages at a high cost because inadequate infrastructure support and not-so-clear regulatory posture on convergence have not allowed operators and investors to adequately leverage on disruptive technologies.
Ranganath noted that with technology convergence there are now more countless possibilities and increasing numbers of once unfathomable vistas that have changed the way we live and the way global economy operates.
But because the infrastructures that are meant to foster convergence uptake in Nigeria are still faced with a lot of challenges, and there still remains low quality of service (QoS) across networks due to lack of required infrastructures, convergence is still in its infancy in the country. The problem of under-infrastructure is militating against reaping the dividends of convergence or making these benefits available outside of major cities like Lagos and Abuja. But that in itself should constitute an opportunity as convergence or technology disruptions happen to cut through limitations of legacy infrastructures in much more dynamic, cost-effective and divergent manners.
WACC holds annually as an industry-sponsored event. This year event drew speakers from the public and private sectors that included: Director-General/CEO, National Information Technology Development Agency (NITDA) Dr. Isa Ali Ibrahim (Pantami), Director General of National Automotive Design and Development Council (NADDC), the Managing Director/CEO, NigComSat Ms. Abimbola Alale, MD/CEO, the President of the Association of Telecom Companies of Nigeria (ATCON), Mr. Olusola Teniola, Country General Manager for IBM Nigeria, Mr. Dipo Faulkner.
Others are Prof Samuel Zalanga of Bethel University, Minnesota, Dr Peter Sesan Abraham of the University of Jos,  MD/CEO of PFS Limited, Dr. Yele Okeremi, Managing Director of  Interconnect Clearinghouse Nigeria, Mr. Oladele Ayanbadejo,  Chairman of Sidmach Technologies, Mr.Chijoeke Eke, Mr. Kaecy Udumukwu and  Mr Olusoji Oyawoye of Resource Intermediaries Limited.
The event is sponsored by the NITDA, National Automotive Design and Development Council (NADDC), Galaxy Backbone, Qi tech Technologies Ltd, PFS Limited, Medallion Communications, Nigcomsat Limited and Smart Web.