By Oluwatobi Opusunju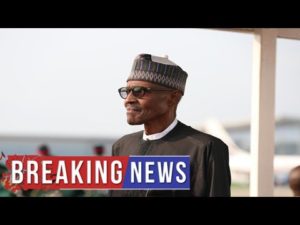 YouTube has released its annual Rewind lists showcasing the moments that captured the attention of Nigerians and YouTube users around the globe. Videos on President Muhammadu Buhari's medical trips to the United Kingdom, Biafra and comedy skits by Mark Angel top the list of most viewed digital contents.
According to YouTube in a recent press statement: "the top trending videos for 2017 are based on views, shares, comments, likes and more. These lists reflect the amazing variety of content that YouTube audiences love, watch and listen to, day in and day out."
Also, a look at the music videos most watched in Nigeria, shows how Nigerians have embraced indigenous music but not without a few foreign favorites. Songs like Davido's 'If' and 'Fall' and DJ Khaled's 'Wild Thoughts' with Rihanna and 'I'm the One' took top spot. Nigerian favorites 'Come closer' by WizKid featuring Drake, 'Wo' by Olamide, 'Nobody Ugly' by P-Square all made the list.
Globally, the most watched video with 181,958,411 views was Thai love song 'As Long As We Will Become The Dust' by Oyster Masked. The melody and beautiful meaning of the song makes it one of the performances that captured the world's attention in 2017.
In the category of the most watched music video globally, Nigerians joined the rest of the world in their love for Latino music as 'Despacito' by Luis Fonsi featuring Daddy Yankee tops the category, followed by Ed Sheeran who dominated both the music and non-music video category.
The lists are as follows:
2017 Top 10 trending videos (Nigeria)
Deaf and Dumb Emmanuella Vs Akin And Pawpaw – (Nigerian Nollywood Movies 2017)
Welcome Back President Buhari: See how the President Landed after Medical Trip in UK
Maths Teacher (Mark Angel Comedy) (Episode 118)
Biafra: Kanu I Want Binta To See This
NAIJ.com visits Evans the kidnapper's house, how should he be punished?
Channels Television: Boko Haram Special Documentary
Wo – Olamide | Ikorodu Street Kids Dance (dream catchers dance)
Longer Throat (Mark Angel Comedy) (Episode 101)
President Is Back – Pete Edochie (African Nollywood Movies)
Akpos And Beaty 1 – (Nollywood Romantic Movies)
Top 10 Trending music videos (Nigeria)
Davido – If [Official Video]
Olamide – Wo!! [Official Video]
Davido – Fall
P-Square – Nobody Ugly [Official Video]
WizKid – Come Closer ft. Drake
Tekno – Yawa [Official Video]
Flavour – Most High (feat. Semah G. Weifur) [Official Video]
DJ Khaled – Wild Thoughts ft. Rihanna, Bryson Tiller
DJ Khaled – I'm the One ft. Justin Bieber, Quavo, Chance the Rapper, Lil Wayne
Ed Sheeran – Shape of You [Official Video]
Top 10 trending videos (Global)
As Long As We Will Become The Dust – Oyster Masked | THE MASK SINGER 2
ED SHEERAN – Shape Of You | Kyle Hanagami Choreography
Ping Pong Trick Shots 3 | – Dude Perfect
Darci Lynne: 12-Year-Old Singing Ventriloquist Gets Golden Buzzer – America's Got Talent 2017
Ed Sheeran – Carpool Karaoke
Lady Gaga's FULL Pepsi Zero Sugar Super Bowl LI Halftime Show | NFL
"INAUGURATION DAY" – A Bad Lip Reading of Donald Trump's Inauguration
History of the entire world, I guess
In a Heartbeat – Animated Short Film
Children interrupt BBC News interview – BBC News
Top 10 Trending music videos (Global)
Luis Fonsi – Despacito ft. Daddy Yankee
Ed Sheeran – Shape of You [Official Video]
J Balvin, Willy William – Mi Gente (Official Video)
Maluma – Felices los 4 (Official Video)
Bruno Mars – That's What I Like [Official Video]
Chris Jeday – Ahora Dice (Official Video) ft. J. Balvin, Ozuna, Arcángel
05. El Amante – Nicky Jam (Video Oficial) (Álbum Fénix)
Jason Derulo – Swalla (feat. Nicki Minaj & Ty Dolla $ign) (Official Music Video)
DJ Khaled – I'm the One ft. Justin Bieber, Quavo, Chance the Rapper, Lil Wayne
Enrique Iglesias – SUBEME LA RADIO (Official Video) ft. Descemer Bueno, Zion & Lennox