By Oluwatobi Opusunju
As part of measures for the country to achieve its broadband goal of 30% penetration this year, the Nigerian Communications Commission (NCC) has partnered with KPMG to design an appropriate data pricing framework to engender competition and allow consumers access appropriately priced date services.
Broadband within the Nigerian context is defined as an internet experience where internet users can access the most demanding content in real time at a minimum speed of 1.5 Mbit/s, but at the moment the available mobile internet connectivity in the country hardly matches up to this minimum requirement.
The Executive Vice Chairman (EVC), Prof. Umar Garba Danbatta who spoke recently at the NCC's forum on cost based pricing for retail broadband and data services at the Digital Bridge Institute (DBI) in Lagos expressed optimism that the findings from the cost based study on data pricing being carried out by KPMG will further ensure the uptake of broadband accessibility, availability and affordability in the country in line with the commission's 8-point agenda.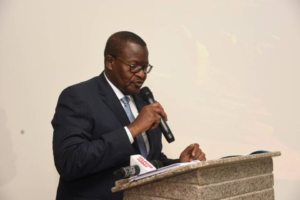 According to him, "the  affordability  and  accessibility  of  broadband  services is largely  determined  by  the  prices  that  are  charged  for  those  services."
"Therefore ensuring that prices charged for retail broadband and data services are cost based in line with international best practice is critical to the deployment and uptake of broadband and data services in Nigeria," Danbatta added.
The Partner & Head Management Consulting, KPMG, Mr. Segun Sewande who was present at the forum explained that the study will assist the industry achieve an active functioning market that will bring about adequate competition and improved quality of service as well as provide options from which the commission will adopt appropriate regulatory measures.
Danbatta tasked stakeholders to key into the framework and support its successful implementation noting that broadband is not only a key enabler of national productivity but also a driver of economic growth, social inclusion and cultural enrichment.
The study and implementation is estimated to take about 16 weeks starting from this month through to April ending.