By Oluwatobi Opusunju and Chinedu James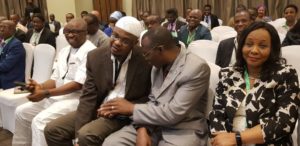 The National Information Technology Development Agency (NITDA) has assured stakeholders in the local software industry that it will fully implement the "Executive Order 3 On Support of Local Content Procurement by the Federal Government and the Presidential Executive Order 5 for Planning and Execution of Projects, Promotion of Nigerian Content In Contracts and Science, Engineering and Technology" issued yesterday, by the presidency.
The Director General and CEO of the NITDA, Dr Isa Ali Ibrahim Pantami, while speaking  at the Nigerian Software Stakeholders Roundtable today in Lagos said software developers and investors in the sub-sector should have the assurance that the agency will put the executive orders positively to the advantage of local software companies.
Also at the event, the Minister of Communications, Barrister Abdur-Raheem Adebayo Shittu tasked software stakeholders on the need to create a common framework to leverage on government's support for indigenous developers. His words: "I am particularly delighted that this roundtable meeting of stakeholders seeks to create an agenda to strategically position indigenous software development as a significant area of endeavour in Nigeria and to chart a map to unlock the potential of young Nigerians in creating solutions to solve complex challenges.
"Our software industry has grown over the years to produce local and regional brands. In addition, our software developers are continuing to do us proud both locally and internationally. This, to my mind is commendable."
The NITDA boss, on his own, said software developers should consider the NITDA a strategic partner in the enforcement of the new orders.
"The Order also empowers agencies like NITDA to provide comprehensive database of verifiable skills and capacities in ICT to ensure only indigenous companies are considered for procurements where capacity is available locally.
"Therefore, with this opportunity and support from the current administration, we are here to discuss as a stakeholders in our country; hubs, private sector, government agencies, academia and trade groups" Pantami told his audience of majorly local software companies under the auspices of the Institute of Safety Professionals of Nigeria (ISPON).
"This meeting is an important one as the Federal Government is assiduously working hard to diversify Nigeria's national income and to harness efficiencies that will deliver better governance to Nigerians. It is clear that ICT is at the centre of these efforts.
"I'm delighted to note that second only to the Oil and Gas sector, ICT is at the forefront of driving a local content initiative, which is anchored on ensuring Nigeria leverages on local capacities to develop the economy, utilize national resource and create opportunities for Nigerians," added Pantami to his delighted audience.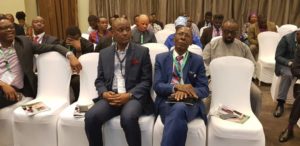 Offshore, Nigerian software output is held in high esteem but local reception for the solutions is still poor. A local content policy by government to encourage patronage by the public sector has been largely ignored. But government is intent to ensure that solutions by indigenous developers gain traction to conserve FOREX and encourage the growth of the sector as a substitute to crude oil export. In the last three years, Remita, an indigenous software solution by SystemSpecs Limited, has become the poster child for made in Nigeria solutions. Remita manages the entire portfolio of Nigerian public payment systems.
Pantami acknowledged this much. His words: "Notably, software development is a shining example of Nigeria's capacity to effectively proffer solutions to complex problems, create opportunities and develop a pipeline of young entrepreneurs who we celebrate every day.  In administration of government today, the effect of projects like  the Government Integrated Financial Management Information System (GIFMIS),Integrated Payroll and Personnel Systems( IPPIS) and the Treasury Single Account  (TSA)  demonstrates how germane ICT is to a properly and efficiently run government.
"The exploits of Nigerians in Financial Technology (Fintech), Enterprise Resource Planning (ERP) tools and mobile application development is acknowledged globally. Recently, an International report produced by Hackrank placed Nigeria in the top 50 software developing countries in the world.  This is notable, but clearly isn't good enough for the effort and potential we have witnessed in the last three to five years. We can do better and should do better, this is exactly why we are gathered here."
HAVE YOU READ?
NITDA To Implement Compliance To Executive Order On Local Content In IT Procurement By MDAs
The Pantami Agenda For Local Content Development: Capacity Building
Citing instance of how the agency has sought to enforce the local content policy, Pantami said as a regulator, NITDA will not relect to efforce the law on local content.
"At NITDA we are committed to coordinating these efforts. We have demonstrated our willingness by enforcing the Guidelines for Nigerian Content Development in ICT 2013 at all cost. Recently, we have taken severe and legal action against violators of the Guidelines for Nigerian Content Development in ICT. I am happy to inform you, that we have begun to witness tremendous results in ensuring public sector patronage of local entrepreneurs.
"I want to commend and acknowledge the support and partnership of ISPON who have also championed efforts to ensure MDAs who have sought to patronize foreign software where local alternatives exist were unable to do so. I assure you that NITDA will do all it can within its powers to ensure no single kobo of the Federal Government will be spent on acquiring technology that local and capable alternatives exist. We have charged our local content office (ONC) to continue to be vigilant in surveillance and to be agile in driving enforcement of the Guidelines for Nigerian Content Development in ICT."