Kaduna State and the National Automotive Design and Development Council (NADDC) are exploring areas of partnership that include the Federal Government Vehicle Finance Scheme. The state is already earmarked to be home for an 'Automotive Test Centre' within the framework of government's policy for made-in-Nigeria vehicles.
Governor Nasir Ahmad el-Rufai of Kaduna State while meeting with the NADDC's team led by its Director General, Mr. Jelani Aliyu assured the council of the state's support. Kaduna state is home to Peugeot Automobile of Nigeria (PAN) and is regarded as one of the country's automobile city.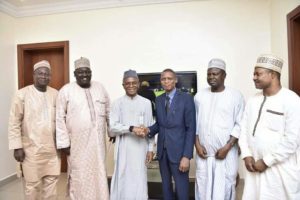 The Federal Government Vehicle Finance Scheme is designed to help Nigerians acquired made-in-Nigeria cars without much financial hassle. The car ownership scheme would allow Nigerians stagger the vehicle payments over an agreed duration under friendly terms. It is part of government's plans to make acquisition of new vehicles stress-free.
The Vehicle Materials Testing Centre in Kaduna State is already nearing completion. The centre would ensure standard materials go into the production of locally manufactured vehicles and automotive components.
The Kaduna centre is one of the three automotive test centers that the NADDC is currently building and nearing completion in the country. The Zaria centre is for Materials Testing, the Lagos centre serves Emissions Testing, while that of Enugu is for Components Testing. The auto components test center would give local plants the opportunity to improve the quality of their products through rigorous and comprehensive test procedures.