By Nwakaego Alajemba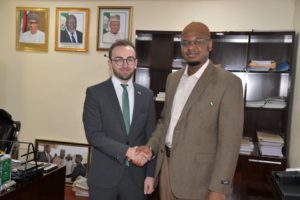 The National Information Technology Development Agency (NITDA) and the Republic of Ireland are exploring technical and capacity collaborations that would allow beneficiaries of the National Information Technology Development Fund (NITDEF) Scholarship to attend Irish universities as the 'Agency Scholars' under the NITDEF Scholarship scheme.
Director General of NITDA, Dr Isa Ali Ibrahim Pantami disclosed this in a meeting this week in Abuja during a courtesy visit by the deputy Ambassador of the Republic of Ireland, Ambassador Joe Kennedy to the NITDA's headquarters. Pantami said NITDA will consider the possibilities to partner with two Irish universities due to the schools' vocational approach and the discounts the institutions are willing to offer to the 'Agency's Scholars.'
Ambassador Kennedy assures the agency of his country's willingness to push a rewarding collaboration that would benefit the two countries noting that Ireland had reworked its economy and social advancements in the 80s through the development and integration of ICT into Ireland's entire fabric of national life.
The NITDEF Scholarship scheme aims at promoting proficiency in IT at doctorate and masters levels. The scholarships are targeted at two persons per state of the federation including the FCT.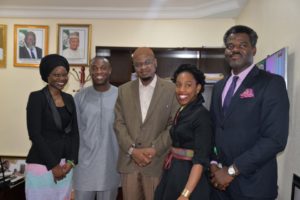 Also in a related development this week during a visit to NITDA by the Facebook team led by its Head of Public Policy Africa, Ebele Okobi, the government IT clearinghouse and Facebook agreed to partner to drive economic diversity and checkmate hate speeches.
With the Nigeria's election season setting in, online hate speech is on the rise prompting authorities to demand that the social media giant unplug hate merchants.
Okobi said the visit was hinged on fostering a partnership with the agency to "deepen penetration of internet connectivity across Nigeria with the aim of driving economic diversity and empowering tech entrepreneurs for wealth creation."
She said Facebook was attracted due to Nigeria's favourable "policy environment and called for a combined effort with the agency to checkmate individuals using the platform to disseminate hate speeches."
Director General of NITDA, Dr Isa Ali Ibrahim Pantami, commended Facebook for its initiative to support Nigeria's tech entrepreneurs noting that a lot of small and medium businesses (SMBs) are learning to scale up on profitability and expansion by riding on the back of Facebook.
Pantami said Facebook had responsibility to checkmate both hate speeches and impersonation of accounts citing himself as an example of being a victim of account impersonation severally.