By Olusegun Oruame
Türksat A.Ş. and Nigerian Communications Satellite Ltd (NIGCOMSAT) are exploring partnership that will allow the two satellite communication companies expand their markets across various industry verticals in a way should deepen their services at more affordable rates.
The two parties are having talks at the ongoing SATELLITE 2018 Conference & Exhibition in Washington DC.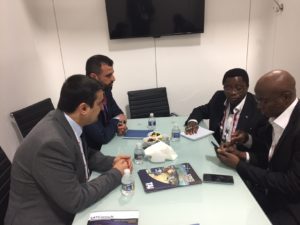 The parties are exploring technical and commercial agreements that would expand their satellite footprints allowing customers to leverage bandwidths on satellite infrastructures of both companies, entail exchange of Nigerian and Turkish contents on their broadcast platforms to give audience more viewing options.
More than 15,000 satellite connectivity professionals are attending this year's SATELLITE 2018 to further their knowledge of satellite communications and space technology. The expo features all the world's leading satellite companies.
Once we agree on a working and agreeable business model including a building a gateway on NIGCOMSAT platform and then training of NIGCOMSAT technical team in Ankara on the technical requirements of the Türksat system, we can begin to deliver the expectations of our agreement," said Hasan Huseyin of Türksat A.Ş.
Türksat A.Ş is one of the world's leading companies providing all sorts of satellite communications through the Turksat series of satellites. Türksat, established 21 December 1990, is a satellite communications and cable TV operations company. It is the sole communications satellite operator in Turkey.
"I'm glad we are already considering the strength of our joint marketing, our mutual business development within the framework of the commercial and technical agreements; and the required time frame to put all these into action," said Executive Director, Marketing at NIGCOMSAT, Samson Osagie.  He was at the meeting with Executive Director, Finance at NIGCOMSAT, Mohammed Abubakar Lema.
NIGCOMSAT is a publicly owned satellite communications company and operates under the Federal Ministry of Communications to deliver series of services that include Direct-To-Home (DTH) broadcasting, Multimedia, Video streaming and Hotspot event services; satellite broadband delivery and bandwidth leasing for customers in Africa and Asia on its Ku-band, C-band and Ka-band platforms. NIGCOMSAT operates the NigComSat-1R satellite and plans to launch two more.