By Olusegun Oruame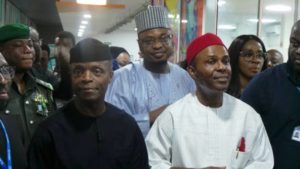 Vice President Yemi Osinbajo in Lagos today took a tour of tech companies and hubs to familiarize himself with the country's startup ecosystem, touted as one of the leading lights on the continent.
The Vice President in the company of the Minister of Science & Technology, Dr. Ogbonnaya Onu and the Director General of the National Information Technology Development Agency (NITDA) Dr. Isa Ali Ibrahim Pantami, visited CC-Hub, Andela, Flutterwave and Paystack among others. "The future of our country depends on the creativity and innovations of our youths. We as a government will continuously invest in that future and encourage our young minds to be both entrepreneurs and pacesetters," said Osinbajo to his audience of largely young Nigerians.
For Prof Osinbajo, the visit was both a working tour and a discovery. The Lagos tech ecosystem is home to some of the continent's most thriving startups and is a nest to innovators increasingly feeding the global tech market.
Business-friendly climate
Osinbajo is part of the leadership in a government that has touted itself as the friendliest in recent times to local businesses and entrepreneurs. Days back, the vice president was in Aba, commercial capital of indigenous entrepreneurs in the east of Nigeria. There he harped on the power of entrepreneurship and why government deemed it strategic to drive local innovation and support small and medium businesses (SMBs).
In Lagos, while sharing with the heads of the startups he visited, Osinbajo stressed the same theme. Technology, innovation and youth entrepreneurship cannot be ignored. While government is committed to stimulating growth in the economy through wooing offshore investors, and providing softer pads for ease if doing business, the government also recognises that investing in the country's youth is a cardinal pathway to building sustainable growth.
"You are the youth and you are the future," said Osinbajo
Paystack and Flutterwave, a startup that drives growth for banks and businesses across Africa through digital payment offer fintech solutions while Andela targets to address the continent's skill gaps. CC-Hub is a home to a number of startups and an innovation space for Nigeria's budding army of digital talents.
ALSO READ
Matters ERising – The African Startup Ecosystem And Why Yaba, Lagos Matters