By Chinedu James
Nigerian pre-teens wanting to explore their computer or coding skills have an opportunity to do just that in Lagos next month May. The Brainiacs CityX Design Thinking Competition is holding May 5th, 2018 at the Corona School, Victoria Island beginning 9AM. The competition is targeting primary school students and is designed to inspire Nigerian youngsters to explore Science, Technology, Engineering, Arts and Mathematics (STEAM).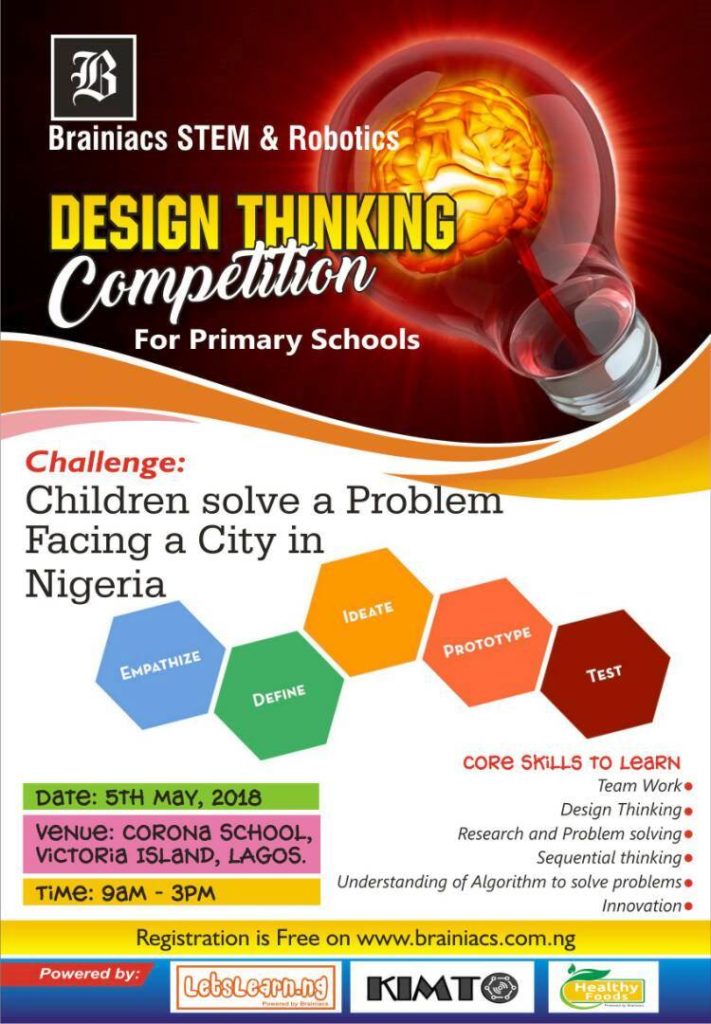 The Brainiacs CityX Design Thinking Competition is promoted by Brainiacs STEM & Robotics, an organisation founded on the vision of developing youngsters in STEAM across Nigeria.
The Brainiacs CityX Design Thinking Competition will see primary school students solve, design and build solutions under the STEAM theme. The competition is a turf where primary school students engage each other to solve, model and design creative solutions to problems facing selected cities in Nigeria with eight schools battling in the first round and four proceeding to the finals.
A team of five innovative and creative students selected from each school would be assigned to the cities of Enugu, Kano, Lagos, Port-Harcourt, Ibadan, Abuja, Kaduna and Jos to come up with ingenious and innovative solutions to the identified problems in the city.
The identified problems include poor electricity, traffic congestion, poor transportation network, dirty environment, high cost of healthcare, safety and security, poor urban planning, erosion and poor agricultural yield.
Challenge Points for the pre-teens
S/N
Schools
City Assigned
Problem
1.
Corona School VI
Enugu
Erosion and Poor Agricultural yield
2.
Corona School Apapa
Kano
Poor Electricity
3.
Corona School Ikoyi
Lagos
Traffic Congestion
4.
Corona School Lekki
Port-Harcourt
Poor Transportation network
5.
Corona School Gbagada
Ibadan
Dirty Environment
6.
Imaad Schools
Abuja
High Cost of Healthcare
7.
TFS
Kaduna
Safety and Security
8.
LPS
Jos
Poor Urban Planning
Tools needed for the competition have been made available at the Brainics innovation hub at no cost.
"The aim of the Design Thinking Competition among others is to foster team work among Nigerian students, inductive and creative reasoning as well as innovations," said the community manager, Tolulade Ademisoye.
Categories under which tools are grouped 
Engineering Tools: Snap Circuit, Renewable Energy Kits (available on ng for purchase by participating schools)
Programming Software/Tool
3D modeling Tools: 123D Software by Autodes
Prototyping Tools: 3D Printe
Disposal Materials: Cardboard papers, A3/A4 papers, Markers, etc. (available on letslearn.ng for purchase by participating schools).
The Brainiacs STEAM & Robotics intends to accelerate the technological and innovative growth of the country by training youngsters capable of solving the legion of challenges facing the society. The youngsters are trained to imbibe the spirit of competition and collaboration at an early age.
The competition exposes then to STEAM, education, educational technology (EduTech), Internet of Things (IoT), 3D printing and application development – all of which are the focal point of the competition.
The event is inviting individuals and organisations who believe in the 'catch them young' tenet to become sponsors.