Founded in 2015, nHub is a pioneer incubation hub in central Nigeria that has helped to ignite the tech and startup ecosystem in the north of Nigeria. Based in the cold city of Jos, the capital of Plateau state, nHub has become a major training pitch for hundreds of young software developers. Since it opened shop about three years ago, the innovation hub has served the rising demand for tech skills locally, and has continued to enjoy attention from the international community. It recently partnered with Facebook to expand opportunities for developers in that part of Nigeria. In this interview, the Founder of nHub, Daser David shares insight on how nHub is scaling the odds to develop tech skills in young Nigerians. According to Daser, nHub's goal is to be the biggest innovation hub in Africa before 2020. Daser also talks about the challenges of startups in Nigeria and how government can help to create the needed enabling environment. He shares with IT Edge News, Oluwatobi Opusunju and Chinedu James in Lagos.
nHub has just inked a strategic partnership with Facebook alongside six other Nigerian innovation hubs. What does this entail?
You know Facebook is about connection; part of their catch phrase is "Be Connected". So they are more interested in connecting people that is why they saw a need for them to connect with young Nigerians by partnering with hubs like ours. I think Facebook is trying to connect people offline now; apparently they have achieved their aim of connecting people virtually. Now they want to start bringing this virtual people together physically. That's why they are trying to connect with groups now. It's the first of its kind in the world. Facebook has never created a connecting hub anywhere in this world.However, this is the pilot phase and it is being tested here in Nigeria. So, I think the question was how can we connect innovation hubs across Nigeria? What platform should we use to connect these hubs together? So that was why they set up NG-Hub, a connecting hub and the whole idea is that all hubs and startups will connect together through the NG-Hub.So by partnering with us they are trying to see how the strength of nHub in Jos can be harnessed to assist another hub's weakness. The focus of this is actually to create a platform for sharing ideas and resources between hubs. So like I said, it's a pilot phase and if it succeeds, it means Facebook will expand more on this project.
The first thing they did was to ask all the hubs they partnered, what the challenges they are facing are. For us at nHub, its power and internet. While other hubs have their own peculiar challenges. But most of them also mentioned power and internet as their major challenges. So, the first initiative was for Facebook to give funds to the hubs to actually solve the problems, so we can be more focused on delivering the values they want us to deliver. Also, Facebook is trying to reach out to developers through its Developers Cycle, so giving the hubs money means every of the Developers Cycle that is taking place in the respective hubs will have to be free because Facebook has paid already for it. So basically every Facebook activities that will be held in the hubs will be free of charge. The hubs will also help Facebook reach out to their respective communities using their network. For instance, Facebook cannot successfully reach out to the community in Jos without leveraging on nHub's network, it won't work. So that is what the partnership entails.
"As Facebook is doing what they are doing in Nigeria, supporting developers and startups… it should serve as a wakeup call for our sleeping government."
With the prevalent challenges such as power and internet, how have you been able to scale the odds over the years?
nHub's case is a little bit peculiar because nHub is not owned by Daser. nHub is not owned by my team. What we did was to make it a community project. nHub is about the people and we often say nHub is a Jos product; it belongs to Jos. In doing that we realised we created a social contract with the people and they felt the need to make the project successful. So much of the work has been taken away from me and my team. It is the people that are driving the agenda of the hub. It's the people that are telling the government to meet us and you know politicians always want to win elections and the best thing to do is to listen to what people are saying. So the government got nHub, particularly me into some policy formulation committees and we have been touching on policies that will affect startups positively. We have done that for tech and we are presently working on startups. Another challenge is the issue of power and we are managing the situation with generators. One challenge for hubs is usually sustainability, because it is mostly impact base. So, since the hub is a social impact organization then how do you sustain it? If we don't make money, then how do we live up to one year?You see, nobody is interested in entrepreneurship, everybody wants to work.  That is why most of the times we try to see how we can train developers and put them on jobs. If what you want is a job, we train you and give you that job not until lately that the people begin to embrace the concept of startups. We have been around for three  years. So three years was enough to start the conversation on how startups can build the economy and people are beginning to show interest. So by building developers, giving them to companies and companies pay the hub, that's how we have been able to pay for power, buy internet and all of the rest.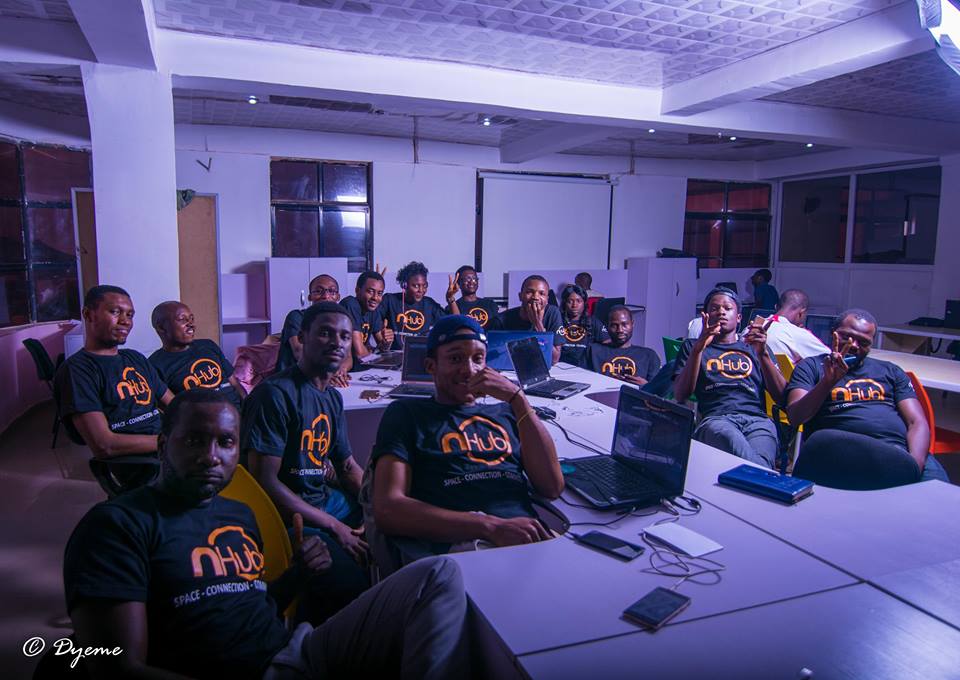 How is nHub fostering ICT talent retention in Nigeria?
Like what nHub is doing now trying to put developers on remote jobs is a way of trying to keep developers here. Our ecosystem in Jos is different from every other innovation hubs and that is one of our competencies. Recently we had a gathering of hubs where we all talked about our weaknesses and competencies. For nHub, our strength is on tech. While most of the hubs complain about lack of tech skills, so they focus more on startups. But in Jos, the ecosystem is unique because we have lots of young people that are probably doing nothing. So we are harnessing that youth population we have.
And then less people are uninterested about entrepreneurship or startup. Everybody wants job. So the only way is build them up as developers and place them remotely to companies abroad or even in Lagos. We have more than 20 developers working remotely now and they are all in Jos. That's the only way we can keep developers here in Nigeria and that is what we are doing.
"nHub is not owned by Daser. nHub is not owned by my team. What we did was to make it a community project. nHub is about the people and we often say nHub is a Jos product; it belongs to Jos."
With attention from tech giants like Facebook, what is the future of IT innovations in Nigeria?
First of all, the fact that an international company like Facebook is doing this, is giving us a very positive validation. It shows to the world that Nigeria is firstly a town of developers and secondly an emerging market for startups. So that validation is key. It simply means more companies will want to venture into the ecosystem; you know how these things are done, companies will want to copy. So as Facebook is doing what they are doing in Nigeria, supporting developers and startups, it simply means more companies will want to come in to do the same thing. And also, it should serve as a wakeup call for our sleeping government.
As a stakeholder in the ecosystem, how can the government bring about that needed enabling environment for startups and hubs like yours to thrive?
It starts with creating policies. One of the reasons why a lot of people are not interested in startups is because of the policies that are not there to actually support them to function effectively.  For instance, you see someone trying to start a company and you see the government the next day coming to collect tax. Most times, things like these are discouraging. So if there are laws that actually give tax holidays, then we would have more start-ups. How about the process of registering a company, are they easy? Are they cheap for start-ups? These are what the government should look into. We also have issues of people who want to set up their own startups, but most of the time the funding is not there. They don't have money and cost of living is high. For example as a startup, I am coming to an innovation hub to get started or to get incubated and then I am working on my product and I don't have money or I am hungry. One is bound to lose focus. So, I think there should be a level of funding for entrepreneurs at that early stage, maybe six months. Now, this funding can be provided by government to these start-ups. So they can use part of it to build the products and another part as stipends every month. That is the only way one can be focused and work during the production of a product. Most of the innovation hubs complain about fund because they live in major cities and the cost of living there is mostly on the high side. For instance, can you develop a product for six years without engaging in another work? So you see them having part time jobs and less attention on the start-ups they are building. There are a lot of mutual funds that government can put in place and say let's have 50 startups and give N2 million to each. Part of the money can go to registration, building the product and their upkeep. At that early stage, it will go a long way for start-ups to grow. With the creation of this, there will be an enabling environment for start-ups to grow. There is also the problem of power and internet which of course needs to be resolved.
"What nHub is doing now trying to put developers on remote jobs …. We have more than 20 developers working remotely now and they are all in Jos."
How would you describe government's local content agenda? Is local content development getting the deserved attention?
From where I come from, there are some governments that want to help but they really do not know how to go about it. Most of the times, these are part of the challenges they encounter and you need to sit with them to discuss this. So right now, we are set to organise a program in Jos and we are bringing government agents and stakeholders to teach them about how economies are built, what start-ups need to grow, the power of leverage, these and many more are what we will be discussing at the event. We also want to use the event to reach out to House of Assembly members on the kind of policies that start-ups need to actually grow. Apart from complacency, it's more of ignorance and that is why you see them investing in things that don't even work. Probably the government has been meeting the wrong people on the issues of empowerment and startup innovation but now that an international company has come to identify with these hubs, government will now follow suit. This will serve as a template for Plateau government to now say, Facebook is partnering with nHub, let's go there. In Lagos, the state government will identify with CcHUB, and so on.
A lot of countries are already deploying Artificial Intelligence (AI), robotics etc. But Nigeria still seems to be way behind. Are we progressing at all?
The slow adoption rate can be because we see AI, robotics as futuristic technology. Often it has been called futuristic whereas we can build the technology here and that has been the reason for the slow adoption. However, it is growing. At nHub we started an AI research company called Elielscope.We are focusing on AI and we have started that by bringing students with PhD from the universities to work with the company. Our goal is to see that we build strong potency, strong research base for AI to grow in the country.
"Our ecosystem in Jos is different from every other innovation hub…For nHub, our strength is on tech…In Jos, the ecosystem is unique because we have lots of young people that are probably doing nothing. So we are harnessing that youth population we have."
What is the role of the academia in the innovation development mix?
Looking at that, I have got in contact with some universities to look at the possibility of a partnership but first of all there is supposed to be a change in the curriculum. One big issue is that the process of including a course to a curriculum takes about three years; that should change. We had this experience with the guys from ROAR in the University of Nigeria, Nsukka (UNN) in Enugu state. We met with the university to attach some entrepreneurship training to the undergraduate curriculum which is going to be credit free; all we wanted was the support that will make it a compulsory attendance then the hub will take over. But they told us that first of all, we have to have a professor and you know, all those bureaucracies which shouldn't be. I also think that the university and the innovation hub can form a strong partnership because one thing that is necessary for the survival of hubs is the raw materials and you get these raw materials from the universities. So that partnership needs to be created to ensure the smooth transfer of ICT students to innovation hubs.
What is the future projection for nHub?
nHub would be the biggest innovation hub in Africa in the next two years or less. I am very optimistic about the future. It is going to be the source for all developers and talents in Africa. So the idea is, every company that wants to recruit or hire developers will head to nHub. That is what we are trying to do at the moment. We are also trying to positively change the economic situation of the state. We are trying to bring a fabrication lab which will cost about $2000. You see, there are developers who are good at developing software, plant the AI software in robots or drones. But what happens to the materials, the quad copters, the wings, do we import them or produce locally in Nigeria? So with the fabrication lab, people will be taught how to model and build up materials. It means I can build the casing of my phone directly from the hub. We are just trying to build that economy where things can be created in the hub. In Jos, we have added another floor to our present building, taking developers away from the hub. Our next project is to pick technical graduates every year from schools who can fabricate materials, fine tune them and make them market ready. We can also build products and sell out to Lagos and Abuja. We have scaled up significantly and we are looking to improve at every point in time.
"We have been around for three years. So three years was enough to start the conversation on how startups can build the economy and people are beginning to show interest."