Somalia is synonymous with violent conflicts. A country of about 15 million people located in the Horn of Africa, Somalia has been subjected to a long spell of civil unrest and unending warfare among leaders of various factions for about 20 years now. But this has not deterred Iftin Foundation, a hub in Mogadishu, the country's capital, from building people and exciting a new tone for a generation of young Somali citizens in ICT. Founded in 2012, Iftin Foundation's main objective is to provide and expand educational and career opportunities through innovative means to people in the country while contributing to a peaceful and developed Somalia. In this 'e-Terview' anchored by IT Edge News, Oluwatobi Opusunju and Chinedu James, the Project Coordinator for Iftin Foundation, Abdiwali Mohamed Ahmed talks about how Iftin Foundation, in spite of the unrests, has been able to meet its objectives. He also shares the challenges of being part of the African startup ecosystem. 
"Innovation is what Africans need in order to be empowered and to develop their livelihood and capabilities."
 Tell us how Iftin Foundation is providing, expanding educational and career opportunities through innovative means?
Iftin Foundation is a national development organization registered by the Ministry of Interior Affairs of the Federal Government of Somalia. Iftin Foundation is based in Mogadishu and operates in Puntland, South and Central Somalia. Iftin focuses on educational career development through training and mentorship activities in order to empower Somali youth with life skills that will enable them have effective skills that are required from their potential employers. We provide economic development through entrepreneurship and employment support in order to improve social livelihood. At Iftin, we do a yearly data collection of graduates' results and numbers from the universities and higher institutions in Somalia in order for the international community and development stakeholders to have an idea of the number of graduates entering the labour market. We do this through the media by using our websites, Facebook and twitter pages, and radio Iftin which is owned by Iftin Foundation. Iftin Foundation owns Impact Solutions which is an ICT center under Iftin Foundation that publishes researches, events and development articles. Impact Solutions offers ICT solution services to private companies and education centres.
"We believe that Africa, including Somalia needs to focus on … education, in order to equip people with excellent skills and expertise….Secondly, we need to focus on the economy in order to improve lives through innovative skills by creating suitable opportunities for youths."
Iftin Foundation strives to contribute to a peaceful and developed Somalia. How have you been able to achieve this since your launch in 2012?
Iftin Foundation has succeeded in providing employment for about 584 youth graduates into several workplaces in Somalia through the application of different techniques and processes. This has helped to reduce the negative tensions among the youth and improve community livelihood, impacting positively on peaceful coexistence. About 1012 graduates have received training on core life skills in order to have effective skills to perform their duties and responsibilities wherever they are employed. Another 250 graduates have also received training on entrepreneurship skills which has helped to support and grow their own private businesses. All these have been beneficial to the stability and development of the economy. Iftin has succeeded to implement four huge job fair events conducted in Mogadishu, Bosaso, Puntland State and Kismayu Juba-land State. From 2015 to 2017, we have organized 20 community events and workshops in six cities in Somalia (Putland, South and Central Somalia) in order to persuade employers to establish opportunities for young people to reduce migrations, extremism and piracy.
Since 2012, Iftin Foundation has published two yearly books: Somali Education Directory and Somali Business Directory. Iftin Foundation also makes publication services for education and private sector, preparing and printing their achievement record. Iftin Foundations owns Somalia E-check website which stores the certificates and information of Somali students in both universities and secondary schools. This website is certified by the Ministry of Higher Education of Somalia and created for employers and foreign universities to check the reliability and originality of certificates without suspecting or delaying candidates whenever they present their documents.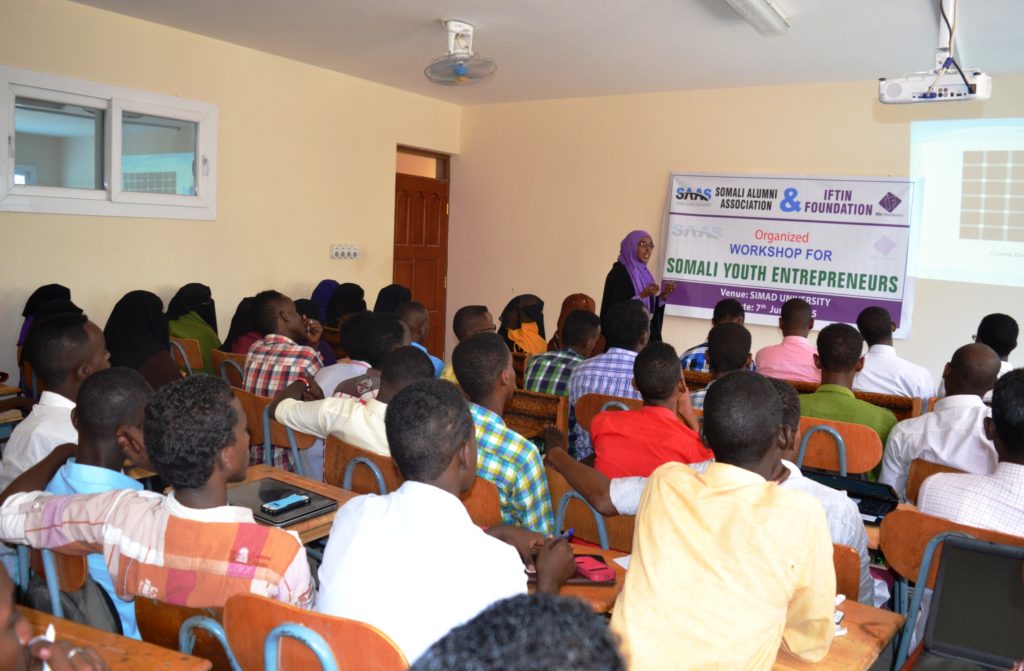 A cross section of participants during one of Iftin Foundation's training programmes.