By Nwakaego Alajemba
Dana Air is trending negatively on social media, Whatsapp and other Over the top (OTT) communication channels. But the messages may be a digital de-marketing of Dana Air to poach its customers.
Touted as one of Nigeria's largest airlines, the airlines may be faced with crisis of confidence and an erosion of customers if it does not act fast. In the messages making the rounds, Nigerians are being warned to stay off the airline purportedly because its fleet of crafts appears to not be technically fit.
One message being shared; and allegedly made by an engineer working with the airline, is advising air travelers on domestic route to avoid the airline as most of its aircrafts have not undergone mandatory air worthiness tests for some time.
An official of the Nigerian Civil Aviation Authority (NCAA) who spoke with IT Edge News dismissed the allegation. He said the NCAA will not allow any craft deemed technically unfit to enter the country's domestic airspace.
"This should be negative marketing antics of Dana's rivals," said the NCAA official.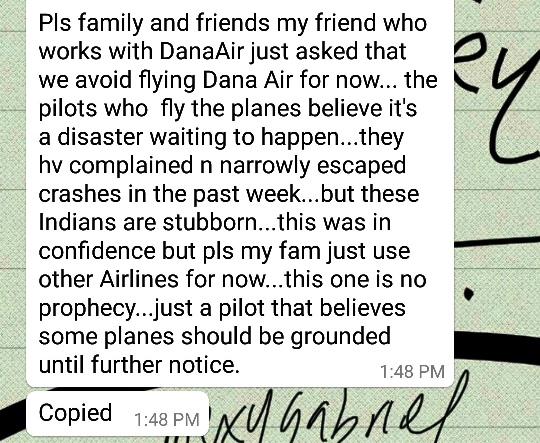 Social media has gained notoriety in recent times as a dangerous de-marketing tool that competing firms could use to edge out their more successful rivals.
More companies are increasingly paying attention on their corporate social media image and digital marketing has become a strong feature of corporate organisations.
Dana Air's Media and Communications Manager, Mr. Kingsley Ezenwa, has condemned the social media message as false.  He told one of the national dailies that the Dana brand remains true to its commitment to safety and customers' satisfaction.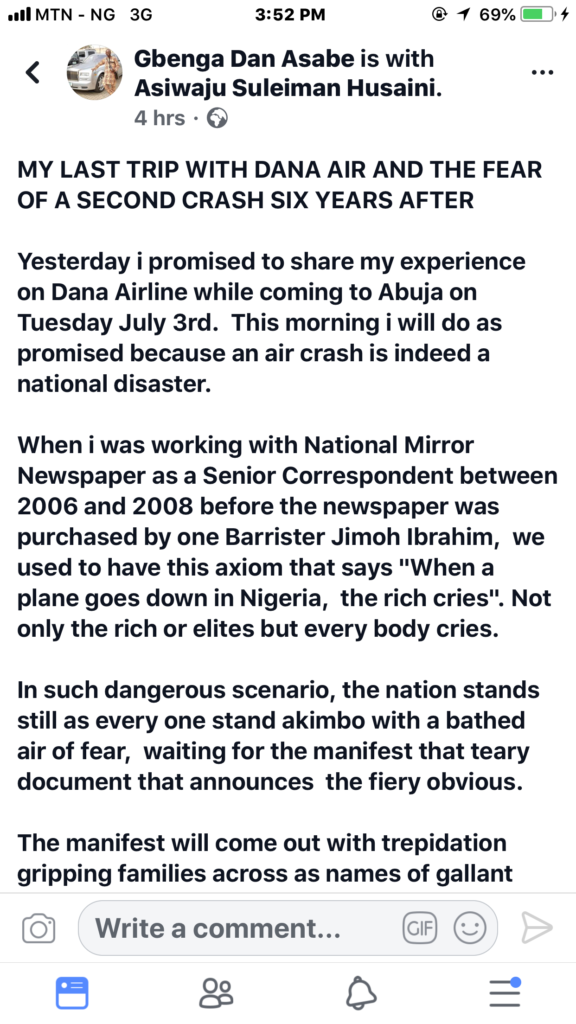 But many Nigerians are not taking the matter lightly. A journalist who recently flew Dana expressed fear of a possible "second crash six years after" the first crash by Dana Air.
Earlier this year in February, Dana Air airaircraft crash landed in Port Harcourt airport with no lives lost or injury recorded. Authorities dismissed it as a minor mishap. According to reports the aircraft was 27 years and three months as at the time of its crash.
But it is its tragic crash of 2012 that has haunted both the airline and the Nigerian aviation industry. About 159 passengers and crew members were killed. The Accident Investigation Bureau (AIB) would in 2017 blame the crash on mechanical failure and pilot error.