The Director General, National Automotive Design and Development Council (NADDC), Mr Jelani Aliyu has commended a new initiative by the Nigerian Institution of Mechanical Engineers (NIMECHE) in collaboration with Auto Lady Synergy Company Limited and Nenis Auto Care to train about 500 females in auto- mechanic in Lagos and Abuja by under the Girls Auto Squad, (GAS) initiative.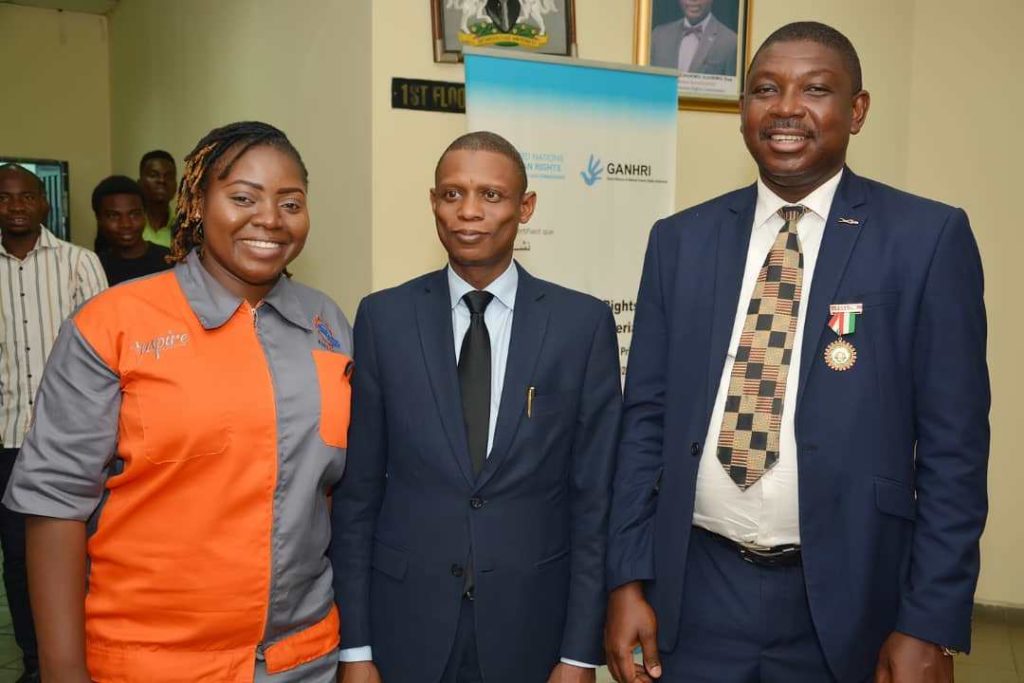 The GAS is an all-girls-centred mechanical engineering advocacy, under the Nigerian Institution of Mechanical Engineers, designed to bridge the gender skills gap in a male dominated profession and also open fresh opportunities for female to become more economically active in Nigeria.
Launched recently in Lagos and Abuja by NIMECHE and its partners, GAS is wooing more stakeholders' partners from across the country "to address the problem of shortage of skillful population in the economy and to help in building the capacity of girls and young women through productive skill acquisition to enable them realise their potential, bridge the gender gap in the male dominated industry, create wealth, and build the nation's GDP," said the National Chairman of NIMECHE,  Dr. Robinson Ejilah, at the Abuja launch of GAS.
According to Elijah quoting other sources: "It is also reported that the labour force participation rate of women was 6.3 per cent lower than men and this points to the fact that more men are engaged in productive level than women on the national average. It is in this light that Girls Auto Squad is being put together principally to address the problem of skill shortage in the economy and also provide solutions to the challenge of youth unemployment by building the capacity of girls and young women through productive skill acquisition to enable them realise their potentials to create wealth and grow the nation through SMEs; and also ameliorate the challenges of criminality and the social vices among youths.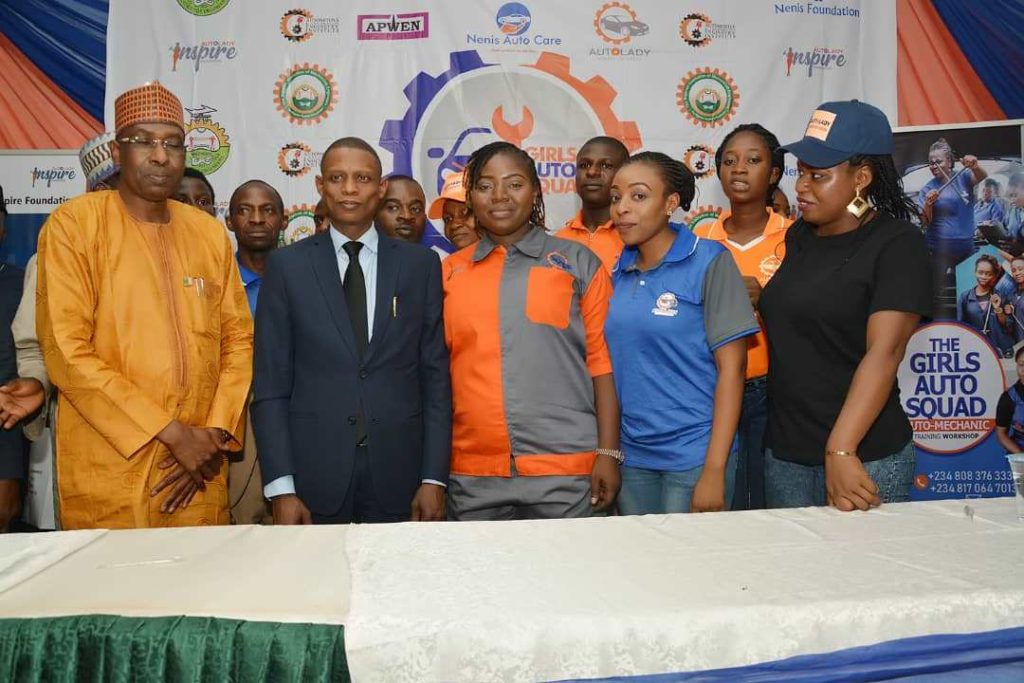 He said GAS will be used to "close the gender gap in the hitherto male dominated automotive engineering sector in Nigeria by equipping socially vulnerable girls and young women with requisite technical skills and competences through empowering and training programmes."
The GAS is "a deliberate social intervention project," added Ejilah at the launch that included the NADDC's boss , Aliyu; the Commissioner of Science and Technology, Hon Daniel Manjang,  representatives of the Federal Road Safety Commission (FRSC); the Federal Capital Territory (FCT), and National Coordinator of the Office for ICT Innovation & Entrepreneurship (OIIE),Dr Amina Sambo. The OIIE a unit of the National Information Technology Development Agency (NITDA) charged with discovering and fostering Nigeria's startup ecosystem.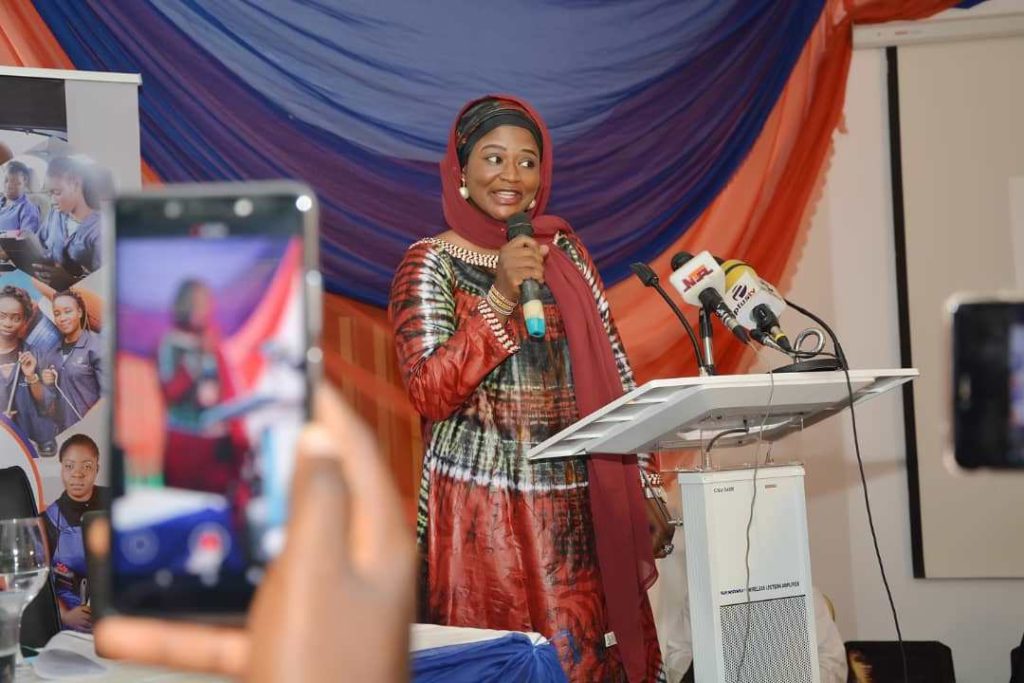 Sambo who was representing the Director General of NITDA, Dr Isa Ali Ibrahim Pantami, commended the initiative for setting a new tone in practical skill acquisition for the female gender in a way that could make more women socially and economically more functional.
Nigeria needs to dwell more on skill and performance than paper certifications. Economies are built on practical skills not certificates, said Aliyu.  even as he assured the audience that the NADDC would support the GAS project to become sustainable and impactful. Female empowerment with skill acquisition among the female population is a strategic enabler of economic development, added Aliyu.
For the Chief Executive Officer of Auto Lady Synergy Company Limited,  Mrs. Joyce Adams, GAS offers a new vista to properly position women as able participants in a male-dominated field. GAS holds a lot of ace to train and elevate vulnerable females including those that constitute the population  among  Internally Displaced Persons(IDPs).
According to her, the first phase of GAS targets 500 females in Lagos and Abuja.
"They would receive ongoing mentorship and business management assistance to ensure that their enterprises are not only profitable but successful and sustainable.
"The programme will provide a viable pipeline of skilled female technicians to establish their own entrepreneurial ventures by so doing the employment landscape will become more competitive and creative," said Adams.
The GAS initiative already has expressed commitment of the NADDC, Plateau State government and the FCT