The Director General/ Chief Executive Officer of the National Information Technology Development Agency (NITDA) and the Chief Information Officer of Nigeria, Dr Isa Ali Ibrahim (Pantami) was, at the weekend, conferred with the 'Most Valuable Public Personality of the Year Award' by the International Centre for Comparative Leadership for Africans and Blacks in Diaspora in conjunction with Accolade Communications Limited.
The African Par Excellence Award, which is in its 12thyear, has, over the years, recognised and appreciated Africans and Nigerians. In line with the award's principles, Pantami was recognised for his inspiring efforts in making Nigeria in particular, and Africa as a whole, a better place.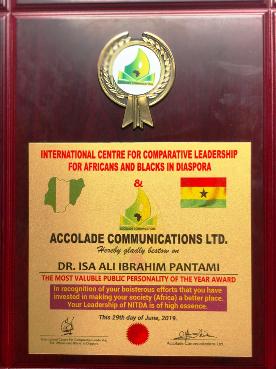 Pantami's leadership in NITDA brought about a paradigm shift and an unprecedented achievement in the in the history of Nigeria's IT sector. Some of these laudable achievements that gave him the recognition include:
Activation of NITDA's IT clearinghouse status that focused on, among others, to ensure efficient utilization of public resources, to prevent duplication or superfluous projects, development of local content and to ensure shared services are used where possible as well as prevention of failed IT projects while encouraging better project outcomes. The process captured over 750 IT-specific projects of federal government and resulted in a saving of over 16 billion naira in compliance with the process;
Enforcement of NITDA's Guidelines on Local Content Development as well as Presidential Executive Orders 003 and 005 that resulted in an unprecedented increase in the patronage of locally assembled devices as well as IT service providers;
Creation of business-friendly regulations that facilitated the establishment of AfriOne as an Indigenous IT company and an Original Equipment Manufacturer (OEM) in 2017.
Few other landmarks in the final stages of registration;
Enforcement of the Data Localisation Regulation that resulted in the repatriation of substantial data assets of the federal government previously hosted outside Nigeria; and
Strategic capacity building initiatives that resulted in the empowerment of civil and public servants, artisans, women, unemployed youth and people living with disabilities.
The African Award Par Excellence is an international accolade to sons and daughters of Africa resident in Africa and in the Diaspora to appreciate and celebrate their exceptional and unique contributions to the enhancement of the destiny of Africans, said a statement in Abuja by NITDA's Head, Corporate Affairs and External Relations, Hajiya Hadiza Umar.