Google has unveiled its first Google Developers Space for African developers, startups and entrepreneurs in Nigeria's commercial capital, Lagos earning commendation from the country's tech community and leaders, notably the Minister of Communication and Digital Economy, Dr. Isa Ali Ibrahim Pantami.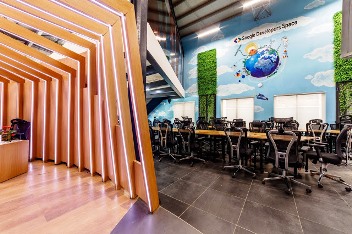 "It will help to promote the building of digital skills," said the minister as he assured the internet giant of government support.
For the tech company, the new space previously referred to as the Google Launchpad Space, will serve as meeting point for developers and innovators drawn from across the continent.
The initiative fulfills the commitment expressed in 2017 by Google CEO Sundar Pichai to strengthen capacity of African entrepreneurs and developers through a Google Launchpad Accelerator Africa program and a space to serve as a hub where Venture Capitalists (VCs) and investors can connect easily with African entrepreneurs and developers.
Pantami commended Google for its commitment to Nigeria and the rest of the continent. He assured the company of Nigeria's desire to partner it in order to build capacity in young people and a new generation of tech leaders.
"What Google has done is key into the ministry's digital strategy road map. The space will provide opportunity for digital mass training which is a way of building a digital society for readiness of a digital economy," said Pantami. He was represented by the Managing Director of NIGCOMSAT, Ms. Abimbola Alale.
The use of the space attracts no fees. "It is free," said Launchpad Accelerator Africa head of Operations, Onajite Emerhor adding that the space will be a nest for developer meetups, training, experts office hours, and Women in tech events, among others.
His words: "Google is strengthening its commitment to supporting the entrepreneurial ecosystem in Africa by opening the Google Developers Space today. We have partnered with Impact Hub to bring the Space to life and worked with a local company called Spacefinish, which designed it specifically to create an environment that fosters collaboration and innovation. We're looking forward to working with startups and other players in the ecosystem from across the continent at the Space."
According to Country Director at Google Nigeria, Juliet Ehimuan: "this space is the next step to our support for developers across the continent. From our commitment to training 100 000 developers across Africa and the launch of developer merchant support in the Google Play store, making it possible for developers to earn money through apps they build. We are excited to continue our journey with the African startup and developer communities. "