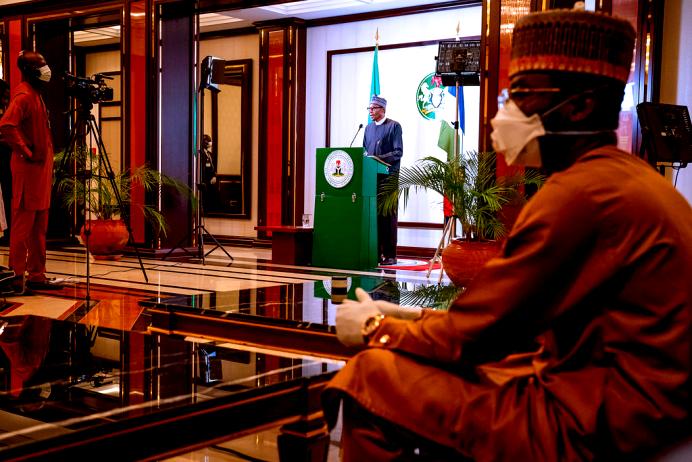 With the numbers expected to cross 100 today, Africa's most populous country has locked down two of its major international gateway cities: Abuja and Lagos with Abeokuta because of its proximity to Lagos. The government has also announced a nationwide restriction in the movement of persons and goods for 14 days in a national broadcast last night by President Muhammadu Buhari.
About 91 positive cases of coronavirus have been recorded but authorities say the figures could spike over a thousand in only days.
Nigeria's commercial capital Lagos is the epicenter of the diseases and accounts for over 60% of the cases followed by Abuja accounting for nearly 30%.
While government targets to tame COVID-19spread by restricting movement of persons, it is also increasing the number of test laboratories as well as setting up isolation centres.
The Nigeria Center for Disease Control (NCDC) has added additional two molecular laboratories with the capacity to test for COVID-19. The laboratories are located in Ibadan and Abakaliki to take the existing total to seven (7) molecular laboratories for testing coronavirus.
About six (6) more molecular laboratories will be set up in three weeks to help increase the testing capacity of Nigeria. The new centres are coming up in that work is in Maiduguri, Kano, Sokoto, Port-Harcourt, Jos, and Kaduna. https://t.co/oSwBYc5yA7
The six new laboratories will bring the total number of the molecular laboratories in the country to 13 from only four that were available nationwide as at February, this year.
In all, the distribution by zones for the 13 test labs are:
South West 4
South South 2
South East 1
North Central 2
North West 3
North East 1
Total 13
Experts believe Nigeria could increase the number of the molecular laboratories beyond the 13 which would impact positively in controlling the disease control and flattening the disease growth curves. States could jointly set up test labs in addition to controlling movements across their respective borders.
Experts are also hopeful that Nigeria's experience in managing past epidemics could it better manage the coronavirus pandemic. Check up this website for confirmation https://doi.org/10.1101/2020.03.24.20042937.
"Studies have shown that countries that have experience in managing epidemic have less cases compared to countries without such experience. Nigeria has managed Ebola, Lassa fever, polio, smallpox etc. I am hopeful we will come out of this also," said IT expert and INEC Resident Electoral Commissioner (REC) for Benue, Dr Nentawe Yilwatda.