Nigeria's public sector connectivity services company, Galaxy Backbone (GBB), has reiterated its commitment to ICT service delivery across government agencies even as the company expressed apologies  for recent  poor service experienced by most agencies caused by a fault on one of the country's international upstream service providers consequently impacting negatively  on internet services across the country.
Managing Director/CEO of Galaxy Backbone, Mr Yusuf Kazaure spoke when he and his management recently hosted the leadership of the National Information Technology Development Agency (NITDA) led by Dr Isa Ali Ibrahim Pantami to the Galaxy Backbone Headquarters in Abuja.
Kazaure assured that the problem has long been completely resolved and all the agencies affected have been brought back to normalcy. He further said that more proactive efforts have been put in place to ensure that such down time is never experienced in the future. In strengthening this, Kazaure stated that Galaxy Backbone would like to partner with NITDA to actively drive capacity building across government agencies to ensure full adoption of its services. He also praised the role NITDA is playing in crafting out policies and standards.
Kazaure used the visit to inform on the organisation's role as the shared services provider to government agencies and the active work going on within GBB to ensure that government agencies enjoy world class connectivity and hosting services.
The visit afforded the two organisations opportunity to share ideas on how they could use their unique roles as agencies of government to drive the technology development of the country.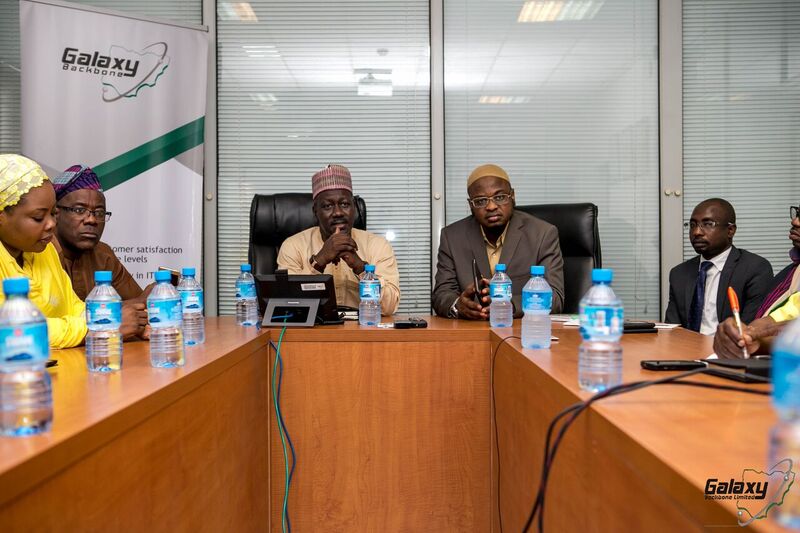 While welcoming the NITDA's team, Mr Kazaure said the visit underscores a commitment to working together to institute and deliver a more service-driven technology experience to the government. The visit afforded him and his team an opportunity to also take a tour of Galaxy Backbone's top-range Datacentre and Network Operating Centre(NOC).
As an organisation committed to excellence in service delivery across all the agencies and institutions and the nation as a whole, Galaxy Backbone was recently recognised by the British Standards Institute (BSI), with the ISO 20000 certificate for excellence in service delivery. The DG of NITDA, while making his statements during this interaction, congratulated Galaxy Backbone on this worthy achievement and encouraged GBB to not rest on its achievements. He also stressed the importance for both agencies to work together and collaborate more in order to take the technology experience in Nigeria to new heights; 'we congratulate you on your recent attainment of the ISO 20000 Certification. I believe it is important that we work together to support each other in order to move the industry forward and deliver on our respective mandates to the nation'.
While on the tour of Galaxy Backbone's NOC, Kazaure stressed again on the committed efforts of the organisation in ensuring that data is hosted locally in Nigeria under a secure environment.
The GBB's boss said in line with the drive towards data sovereignty, GBB is poised to provide a hosting environment that guarantees the security of government's sensitive data. He also explained that processes are being improved within the organisation to ensure that government agencies and all other organisations that use the Galaxy Backbone infrastructure are assured of an excellent experience.