Nigeria population is over 185 million; has Africa's largest telecom market
Over $80 billion invested in telecom sector; over 70% is FDI
Nigeria targets 30% broadband penetration by 2018; currently at 21%.
Over 150 million active connected subscribers; about 110 percent teledensity
By Oluwatobi Opusunju
The Nigerian Communications Commission (NCC) has said Nigeria's participation at the upcoming International Telecommunications Union (ITU) Telecom World Conference this year is focused on attracting more investors to the country especially in the area of broadband internet and to also renew investors' confidence in Africa's largest telecom market. The ITU Telecom World holds this year in Busan, South Korea from September 25 – 28, 2017.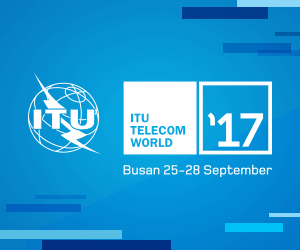 In an official statement signed by NCC's  Director of Public Affairs, Mr. Tony Ojobo, the telecom regulator said Nigeria's robust telecommunications regulatory environment, guarantee of Returns on Investment (RoI) and investors renewed confidence in the fast growing sector will form part of the country's narrative at  the conference as existing and potential investors will want to hear the cherry news from a globally respected regulatory agency.
"Although Nigeria has had a very robust telecommunications sector with active connected subscribers in the region of 150 million and about 110 percent teledensity, the NCC believes that more efforts should be deployed to deepen broadband penetration.
"By the National Broadband Plan, NBP (2013 – 2018) the country is expected to attain 30% broadband penetration by 2018, which currently stands at 21%.
Nigeria will host an investment forum at ITU Telecom World 2017 and Broadband Nigeria will be at the focus of discussions," said NCC's Ojobo.
According to the NCC, since 2001 when Digital Mobile Licences (DML) were issued by the commission , the country has witnessed multiplier effects in social and economic development.
Also, Telecommunications services are now available to everyone unlike the pre-GSM era when only 500,000 lines were available to a population of nearly 90 million from an investment profile of about $50 million. Teledensity was about 0.01 percent. Internet connectivity was a nightmare. But the story has since changed.
The NCC also stated that there are currently over 150 million active subscribers. Internet connections are over 90 million; Teledensity is well over 100 percent. There is over $80 billion invested in the sector so far with over 70% of it as Foreign Direct Investment (FDI).
Honourable Minister of Communications, Barrister Abdulraheem Adebayo Shittu, is expected to lead the country's delegation which will include the Chairman of the Board of Commissioners of NCC, Senator Olabiyi Durojaiye; Chief regulator and Executive Vice Chairman (EVC) of NCC, Prof. Umar Garba Danbatta; key industry leaders and players among others.
The ITU Telecom World 2017 is a global platform for major industry players, Small and Medium Enterprises (SMEs), countries and organisations to network and share ideas about new developments and technologies that would lead to better connected societies