By Oluwatobi Opusunju
Drone footage has shown the possibility of more mudslides happening in Sierra Leone as the West African country battles with a disaster that has led to more than 1000 deaths and economic losses exceeding billions of USD.
Nigerian philanthropist Tony Elumelu and the United Bank of Africa, the bank he acquired years back, had donated $500,000 for rescue missions and victims of the mudslide. Elumelu made a donation of USD$250,000 on behalf of the Tony Elumelu Foundation and another USD$250,000 on behalf of UBA.
Elumelu, founder of Tony Elumelu Foundation and Chairman of UBA, had made the donation during a state visit in the company of former President of Nigeria Olusegun Obasanjo, to the Sierra Leonean President Ernest Koroma to commiserate over the great loss caused by devastating mudslides and floods.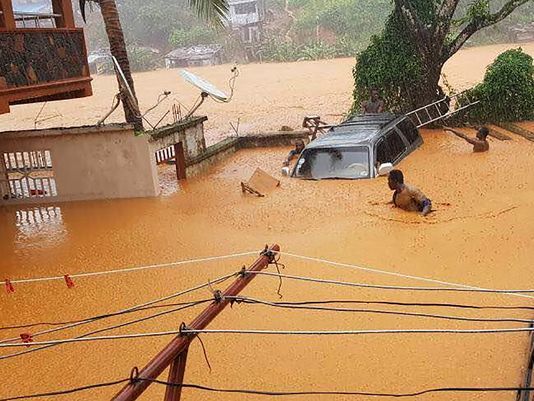 Freetown, Sierra Leone's capital is still under siege from nature's war. More than 600 are still missing and are believed to be buried in the debris as recovery operations continue.
The United Nations (UN) through drone mapping and satellite data have been able to assess the possibility of a second mudslide as the country is not yet half way through with the rainy season.
Authorities are warning citizens to be on the alert as rescue missions continue. Drones are flying low over Freetown as concern stakeholders seek for succor and answers with torrential rain pounding down and across the country.
The Minister for Tourism and Cultural Affairs, Sierra Leone, SidieYahya Tunis, told CNN that aerial images from drones of an adjacent hill have revealed a crack that is likely to collapse. According to him the images show that a much larger area might be affected.
"What is now even worrisome for us, after looking at drone images we have realized that we have a bigger portion now, about 21.9 hectares likely to collapse. And we don't know how much coverage we have."
He also added that "We are really very worried; the weather conditions are still not favorable. The prediction is that we are expecting more rain in the next couple of days…, We want to be able to evacuate as much people as we can before we find ourselves in this situation again."
"It's very hard to access these areas, where it's muddy, it's slippery – there's a risk of a second landslide. We're not sure how this massive landslide has affected the ground around it," One worried UN official, Linnea Van Wagenen.
"Last year the heavy rains came in September, so we want to make sure we do analysis of communities that are at risk now and see how we can prevent the risk of something like this continuing to happen," she added.
Unmanned Ariel vehicles (UAV) commonly known as drones which were originally designed for the military are now gaining more usage especially in areas of national safety.
Drones are deployed today in the areas of search and rescue as it pertains to Sierra Leone. With images emanating from the drone, Sierra Leone may forestall and evade another devastating landslide from happening, if all resources are channeled to this effect, both locally and internationally.
"At this point, more hands are needed on deck, both locally and internationally. The gravity is huge and the magnitude is just so much for this nation to handle. I pray that other countries will come in to assist," said Sidie.