By Oluwatobi Opusunju
Internet images of Nigerians in Kano, northern Nigeria, marching for peace in Ibo attire, and online discussions favouring a 'One Nigeria' theme are engendering peace as tension rises over army-IPOB (Independent People of Biafra) clash in Umuahia, Abia state in eastern part of the country.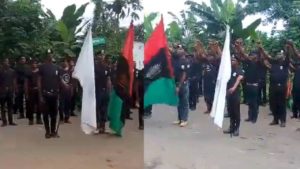 While the social media is inundated with video and images portraying the military as being highhanded and IPOB of embarking on ethnic cleansing, the images filtering from Kano of northern youth in Ibo traditional outfit clamouring for peaceful co-existence to douse retaliatory attacks in northern cities have triggered a wave of positive emotions among Nigerians.
"Nigerians want peace. They have seen too much blood and economic suffering and all they want is a peaceful atmosphere to overcome their economic challenges," said Ifeanyi Nwabueze, a trader in Kano.
So far, there has been no backlash in any northern cities and the crises appeared tamed in the east even as military authorities embark on a manhunt for the IPOB leader: Nnamdi Kanu, according to reports within the social media.
IPOB has been declared a terrorist group by the military in circumstances that have elicited debate among lawyers and non-lawyers. Activities of the group have been proscribed by governors of the five eastern states. In nearby Rivers State, IPOB activities have also been banned to begin an official clampdown against what some critics considered the hate speech campaigns of IPOB.
IPOB has always touted itself as a peaceful group. But authorities say video evidence of the group soliciting for arms and several inciting statements by its leadership including a claim of having a secret service as well as publicly launching a Biafra security guard are indicative of a terrorist cell at a very advance stage.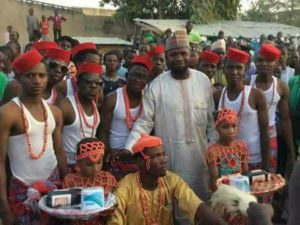 The army listed the following as IPOB's sins: the formation of a Biafra Secret Service; claimed formation of Biafra National Guard, unauthorised blocking of public access roads, extortion of money from innocent civilians at illegal road blocks; militant possession and use of weapons (stones, Molotov cocktails, machetes and broken bottles among others) on a military patrol on 10 September 2017;  physical confrontation of troops by Nnamdi Kanu and other IPOB actors at a check point on 11 September 2017 and also attempts to snatch their rifles; and attack by IPOB members, on a military check point on 12 September 2017, at Isialangwa, where one IPOB actor attempted to snatch a female soldier's rifle.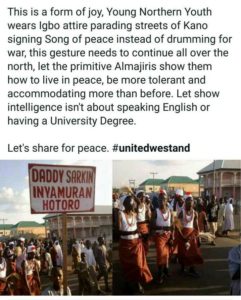 A possible backlash in Jos, central Nigeria, was quickly averted as the state governor imposed a curfew and put security personnel on the streets to checkmate troublemakers. The government, religious and civic leaders have been using social media and OTTs particularly Whatsapp to appeal for peace. The Jam'atul Nasril Islam (JNI) Plateau State Chapter and the Christian Association of Nigeria (CAN) have particularly embarked on Whatsapp campaigns appealing to their members to keep the peace.
A bloody fray between Ibo and Hausa traders in Jos Katako market over the crisis in Abia was not allowed to snowball into a citywide eruption although there are reports that two people were killed before it was put down. Jos has witnessed series of religious and ethnic violence since 2001. The city is still struggling with its immediate violent past.
Authorities are warning citizens to be wary of fake news, online images and videos purportedly displaying tortures, fights or bloodletting in the south-east aiming to raise tensions and escalate the crisis across the country.
There are already moves to legislate against hate speech and fake news.
After almost two decades of undisturbed democracy, an increasingly significant number of Nigeria's over 300 tribes want the country to be restructured with a stronger sense of federalism. Already, there are groups targeting a restructured Nigeria and engaging law makers and Nigerians to get results. But some groups such as IPOB and Yoruba Liberation Command (YOLICOM) hold extreme secessionist goal and want a referendum. Nigeria's constitution does not recognise referendum.