As lawmakers promise tax holiday for tech startups
The National Information Technology Development Agency (NITDA) is aiming to save the country about $2 billion (about N720 billion) lost as capital flight as a result avoidable importation of foreign technologies into the country, Director General of NITDA,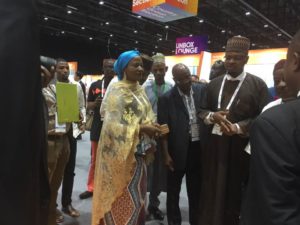 Dr. Ibrahim Isa Ali Pantami, has said at the on-going on GITEX technology expo and conference holding at the Dubai World Trade Centre, United Arabs Emirates (UAE) with more than 140 countries in attendance.
Pantami who spoke during a media interaction inside the Nigerian Pavilion at GTEX with several government officials across diverse agencies, local IT companies and officials of Computer and Allied Product Dealers Association of Nigeria (CAPDAN), said NITDA was aggressively pursuing the local content agenda and helping to promote cross borders partnership and in-country investment that would reduce the heavy dependence on FOREX to import ICT products and services.
Pantami said NITDA was promoting about 10 Nigerian tech startups inside the Global Startup Arena at GITEX as part of the agency's commitment to grow indigenous entrepreneurship. Also affirming the position of the NITDA's boss were Nigerian lawmakers, participating at the regional event who said they would ensure that the startup, who are being presented for global pitch at in Dubai, have access reasonable years of tax holiday. Senator Abdul Fatai Buhari, Chairman, Senate Committee on ICT and Cybersecurity and his counterpart in Nigeria's House of Representatives, Hon. Onawo Muhammed Ogoshi, led the Nigerian legislative teams at GITEX.
The lawmakers joined the NITDA management to undertake a tour of the solutions being showcased by the 10 startups.The impressed lawmakers, who took a great deal of time, listening to the 10 startups to explain their tech solutions to them at the instance of Pantami, who led the tour, promised to implement tax holidays for the 10 startups. "This is how Microsoft, Google, Facebook and several other of such IT companies started and as lawmakers, our mandate is to always enact laws that would support local innovations," Senator Buhari said.
The startups at this year's 37th GITEX include Coudiora, Nicademia, Beat Drone, Accounteer, Dropque, MTK e-Learning Portal, My Padi, Ward Monitor, Tattara and Six Internet of Things (IoT). They are to compete with hundreds of tech startups from across the world to be able to win a $30,000 million (about N10.8 million) investment towards developing their solution in a more commercially viable way.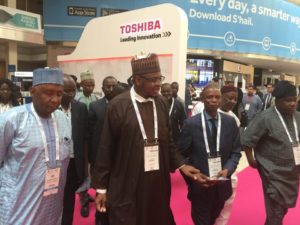 According to NITDA DG, there is a need for Nigeria to promote local technology solutions developed Nigerians with specific reference to the 10 startups in order to truly catapult Nigerian into becoming one of the countries to be reckoned with in on the global ICT map. Pantami said NITDA has realised that "developing our ICT ecosystem but for the indigenous IT companies and for startup by offering them an enabling environment in terms of policy and laws to operate is one of the ways Nigeria can adopt to curb annual $2 billion (N720 billion) to capital flight."
Explaining the seven areas NITDA is focusing on at this year's IT exhibition towards developing the country's ICT ecosystem, Pantami said the agency has come with seven agenda designed to develop Nigeria's IT industry and curb the huge annual capital flight.
"These include promoting IT regulations in Nigeria, IT development and promotions, striking partnership on how to better secure Nigerian cyberspace, capacity building, promotion of e-government in Nigeria, showcasing indigenous tech innovations as well as looking for investors, who will assist in supporting local development of Nigeria's IT industry," he said.
He also added that NITDA is working with Economic and Financial Crimes Commission to ensure that the annual estimated N37.8 billion wasted on frivolous ICT projects, especially when they abandon local IT companies and go abroad or their IT procurements, is curbed through enforcing NITDA Act that says all MDAs must get clearance from NITDA for any IT project they want to embark upon to ensure those projects are implementable.
He noted that a NITDA screen of one of an MDA's IT project conducted recently resulted in saving government N500 million. This is saved from a single IT project and you can now imagine how much we would be saving government as an agency if thorough screening of all MDAs' IT projects are carried  out in the country.
Other dignitaries,  who joined the NITDA DG during the tour of the Startup Expo Hall included President of Nigerian Computer Society (NCS),  Prof Prof Adesola Aderounmu; Director General of National Automotive Design and Development Agency (NADDC), Mr. Jelani Aliyu; Chief Executive Officer of Pinnacle International Consulting, USA, Mr. Akande Ojo and the Chief Executive Officer, Know-How Media International Limited, the local partner to Pinnacle, Mr. Segun Oruame, among others.
Overall, Pantami said NITDA is focusing on mobilising global attention on the investment potential of Nigeria's IT sector and promotion of local tech-entrepreneurs at this year's GITEX 2017 at an African Investment Forum for all participants at the going GITEX on tomorrow (Wednesday).
This year's GITEX, a five-day regional conference, opened on Sunday as the premier technology event in the Middle East, Asia and Africa , hosting 185, 000 visitors from more than 140 countries.