Commission promoting digital trackable identity to checkmate crimes and foster trust
By Oluwatobi Opusunju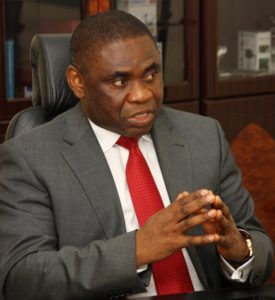 The Nigerian Communications Commission (NCC) has warned all mobile network operators (MNOs) allowing the use of unregistered subscriber identity module (SIM) cards on their networks to desist or face the wrath of the law. Its spokesman and Director of Public Affairs, Mr. Tony Ojobo who spoke recently in Lagos at the Special Independence Edition of the annual Conference of Directors and Heads of Public Relations, organised by the Nigerian Institute of Public Relations (NIPR),  said the regulator will impose the full weight of the law on erring operators.
Ojobo whose presentation was woven on the theme: "Trackable Identity and Integrity in Business and National Reputation," reiterated that the task of eliminating the proliferation of pre-registered SIM cards lies with the MNOs expected to deactivate SIM cards that do not carry verifiable identities, because operators are under obligations to have the identities of all callers on their respective networks.
"SIM Cards Registration policy was instituted by the Federal Government as a strategic response to the challenges of identity tracking especially in the context of kidnappings, terrorism and other forms of criminality in our society and globally," Ojobo noted.
Thus, the need for MNOs to be watchful and guided by the law over the proliferation of unregistered SIM cards in the country to curb crime related activities, especially those carried out through mobile phones.
He, however, also warned the general public not to buy pre-registered SIM Cards from persons and businesses that had done multiple SIM Cards registration in order to resell later.
Ojobo who further explained that trackable identity is the ability to identify an individual operating or transacting business in the cyberspace, noted that some identity objects within our environment are bereft of digital object identifiers, thus posing serious challenge to identifying someone transacting business in the cyberspace.
"While traditional Identification rely on passwords, PINs, smart cards, and the like, Biometric Identification using finger prints and iris scans are generally more reliable and secure. They are adopted more universally like in driving licenses and international passports. Biometrics identity is also more reliable in linking individuals to event and actions. It is therefore preferred by security institutions in fighting crimes," he stated.
The NCC spokesman, nevertheless, informed the audience that, so far the Commission has registered over 113 million SIM cards on its database and Nigerians have been able to use their trackable identity to make purchases worth N630 million on leading e-commerce merchant service provider, Paypal in 2015.