By Oluwatobi Opusunju
Organizers of the forthcoming West African Convergence Conference (WACC 2017), Knowhow Media and Market Intelligence International Limited (KMMIIL) has announced an over-subscription of delegates for the conference holding on Wednesday, November 29th at the Sheraton Hotels and Towers, Ikeja, Lagos.
WACC 2017 is the 9th edition of the West Africa's only forum on technology convergence and the impact on industries, people and environment.
WACC since inception has enjoyed a very rich participation from industry stakeholders and policy makers.This year's edition will be drawing participation from thought leaders and decision makers across industry verticals to underscore the convergence of industries within the broad spectrum of technology and its application across sectors.
The theme for WACC 2017 is "Convergence and the New Deals: Entrepreneurship and Employability" with the Chairman, House Committee on ICT at the Federal House of Representatives, Hon. Mohammed Ogoshi Onawo billed to keynote the major theme of the conference.
More than 350 people have registered for WACC 2017 with a lot of enthusiasm from the startup ecosystem and the university community to underscore the growing interest in emerging technology issues as they impact on the economy of Nigeria and West Africa at large.
Speakers at WACC 2017 include regulators, public and private sector top decision makers, academics, researchers and innovators. They include Director-General/CEO, National Information Technology Development Agency (NITDA) Dr. Isa Ali Ibrahim (Pantami),  Director General of National Automotive Design and Development Council (NADDC), Mr. Aliyu Jelani, the Managing Director/CEO, NigComSat Ms. Abimbola Alale, MD/CEO, Galaxy Backbone Ltd., Mallam Yusuf Kazaure, the President of the Association of Telecom Companies of Nigeria (ATCON), Mr. Olusola Teniola, Country General Manager for IBM Nigeria, Mr. Dipo Faulkner,  and the CEO of  Medallion Limited, Mr. Ike Nnamani.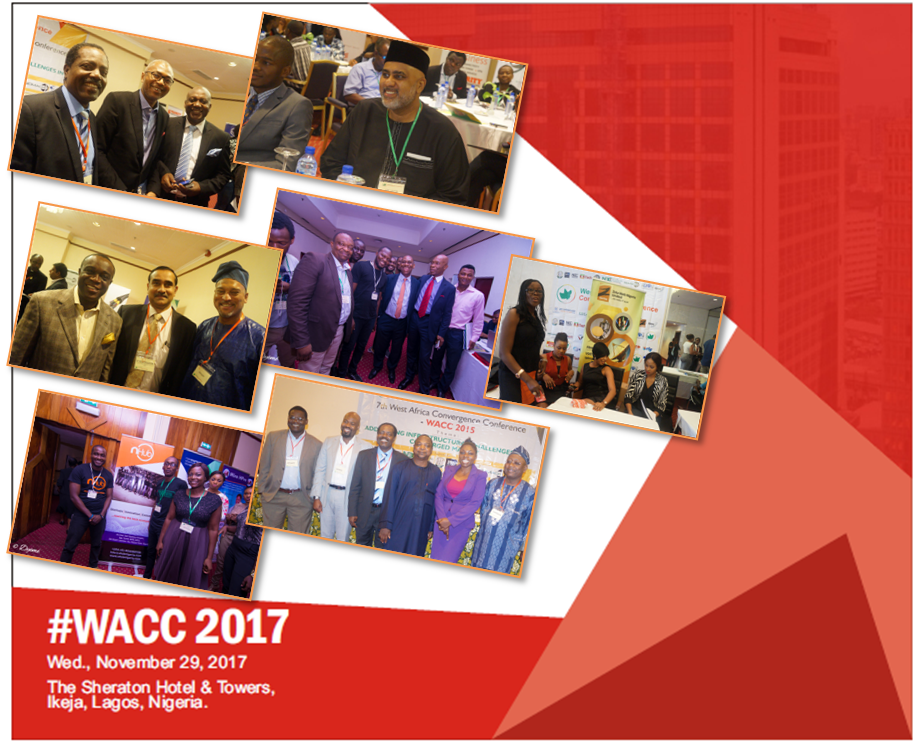 Others are Prof Samuel Zalanga of Bethel University, Minnesota, Dr Zubairu Dagona of the University of Jos,  MD/CEO of PFS Limited, Mr. Yele Okeremi, Managing Director of  Interconnect Clearinghouse Nigeria, Mr. Oladele Ayanbadejo,  Managing Director of ICS Limited, Mr. Peter Akindeju, System Manager at Cisco, Mr. Kaecy Udumukwu and  Mr Olusoji Oyawoye of Resource Intermediaries Limited.
WACC 2017 will highlight the changing work-spaces, and the expansive portfolio of new careers hinged on the convergence of technologies and industries. Speakers and panelists will be looking at the future of work, new skills, the new economy, the expanding frontiers, barriers for entrepreneurship & employability.
Sessions lined up for the Conference include 'Convergence and the Future of Work', sponsored by Medallion Limited, ICS Limited, and PFS Limited; 'Convergence, Disrupters, and Regulation', sponsored by the National Information Technology Development Agency (NITDA), Unique Solutions, The Gambia and SBTS Group, Sierra Leone; 'Convergence and the Automobile Industry', sponsored by National Automotive Design and Development Council (NADDC).
Others are 'The InventSpace' which is focusing on Technology Convergence and the Startup Ecosystem and being sponsored by the NITDA, NIGCOMSAT and Galaxy Backbone and 'Convergence, Governance and Citizens Engagement,' sponsored by Qitech Technologies Limited and Smart Web
WACC will also feature the Convergence Tech Leadership Recognition awards, targeting the recognition of industry leaders helping to promote awareness, industry and policy in the converged space.
WACC is to kick start at 8AM Nigerian time.WACC official tweet-point is #WACC2017.