By Aanuoluwa Omotosho and Oluwatobi Opusunju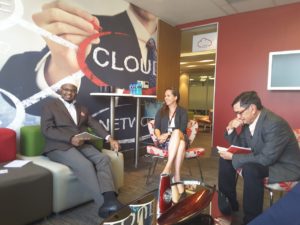 In its quest to strengthen the agency's competency and impact on the country, the management of the National Information Technology Development Agency (NITDA) is deepening its network and partnership within and outside the country.
NITDA recently inked a Memorandum of Understanding on the development of Cloud Policy with software giant Microsoft. The deal would also help provide best practice and guidance in privacy and data protection laws in Nigeria as NITDA deepens its regulatory role across sectors and further braces up to assert its mandate within the public sector.
NITDA is the IT clearinghouse for the Nigerian government. In the last one year, the agency has aggressively asserted its mandatory function on IT procurement and deployment within the public sector to provide sanity, savings and greater transparency on government IT expenditures.
READ: https://itedgenews.ng/2017/11/21/nitda-saves-government-n3b-procurement/
We will consistently assert the mandate of NITDA as the IT clearinghouse. Within the law, we will ensure that there's full compliance on IT procurement," said Director General/CEO of the NITDA, Dr. Isa Ali Ibrahim Pantami, to IT Edge News recently in Abuja even as he expresses the willingness of the NITDA to partner with global solution companies and sister regulatory bodies outside of Nigeria to reinforce capacity of the NITDA's team to meet the increasing complexity and dynamics of the IT sector.
ALSO READ: https://itedgenews.ng/2017/10/10/nitda-gitex-2017-targets-saving-nigeria-n720bn-importations/
"Partnership and capacity building are essential to growth," added Pantami. This month in South Africa, Pantami led discussions with Gartner on best practices to develop and regulate IT in Nigeria. In the strategic meeting in Johannesburg, NITDA and Gartner explore areas in which Nigeria could become the IT hub of Africa leveraging on the country's rising rate of digital literacy among its youths, the country's huge population of over 186 million half of which are young people and a sizeable number of digital natives.
Despite economic setbacks, Nigeria retains high prospect for economic growth and has remained both a continental powerhouse and one of the favourite destinations for investments. Part of NITDA's mandate is to regulate and help build an IT led economy. NITDA hopes to expand the portfolio of sectoral opportunities for IT in Nigeria with professional insight from Gartner, a globally renowned research and advisory firm that offers information technology related insight across the world.
The NITDA team led by Pantami also took time out to have a meeting with representatives of State Information Technology Agency (SITA), in Pretoria, South Africa on areas of collaboration and knowledge sharing between the two countries.