By Oluwatobi Opusunju
As part of preparations towards the 2019 general elections, the Nigerian Communications Commission (NCC) and the Independent National Electoral Commission (INEC) have sealed a partnership deal to deliver seamless electronic collations and transmission of election results. The deal will allow INEC to deliver accurate and fast transmission of results from polling units to the various collation and declaration centers. INEC has already enhanced its interface with voters using web based technology. Registered voters can determine their status at: http://voterreg.inecnigeria.org/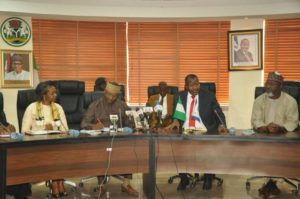 The INEC/NCC partnership was inked this week in Abuja when a delegation from the electoral body led by its Chairman, Professor Mahmood Yakubu visited the telecoms regulator.
The meeting explores collaboration between INEC and NCC to enhance delivery of accurate election results in real time telecommunications infrastructures. Nigeria has approved the use of electronic voting system and the INEC is seeking to make its system more ICT-compliant.
Professor Mahmood said INEC introduced and deployed the biometric voter registration in the 2011 general elections and the Smart Card Reader in the 2015 elections to deepen its reliance on technology for a more credible electoral process.
According to him, it was time the country leveraged the full dividends of technology convergence including broadband internet and voice telephony to provide credible election results delivered efficiently and in realtime.
"NCC has recorded unprecedented achievements as the regulator of the Nigerian telecoms industry and telecommunications has infiltrated every sector of our lives from how we live as individuals, to how we work, do business and socialize with the rest of the world.
"The time has come for INEC to reap the full potential of telecommunications by ensuring that elections and electoral processes become fully electronic-based by the application of all the telecoms services and technologies at our disposal," said the INEC Chairman as he asked the NCC to facilitate a meeting between INEC and the telecommunications network operators in Nigeria to objectives of the partnership.
As part of the agreement, NCC is to provide INEC with the network coverage map for all operators nationwide, including network strength that can help deploy e-collation of voting to a central data system as well as provide security and protection of data in the course of transmitting results in order to further safeguard the security of the process.
NCC will also provide specially registered and exclusively Encrypted SIM Cards with special numbers for the use in the Smart Card Readers.
In response, the Executive Vice Chairman/CEO of the NCC, Prof. Umar Garba Danbatta assured the INEC boss of NCC's support while thanking the INEC's team for the visit. Danbatta said the NCC will facilitate a meeting with the telecommunications companies as requested by INEC.