By Oluwatobi Opusunju and Chinedu James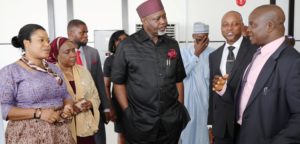 The newly inaugurated governing board of NIGCOMSAT was at the government-owned satellite company yesterday on a familiarization tour of the enterprise they are to govern.
The board was inaugurated by the Minister of Communications, Barrister Adebayo Shittu a day before its visits to NIGCOMSAT. In the short inauguration ceremony, which was witnessed by the Permanent Secretary of the Federal Ministry of Communications, Alhaji Abdulaziz Abdullahi Mashi,  Shittu charged the new board "to tackle the enormous challenges ahead in order to make ICT a major contributor to the lingering problem of unemployment in the country."
The Board Chairman of NIGCOMSAT, Chief George Moghalu, in his acceptance speech on behalf of all the board members, had stated their readiness to work with the ministry to achieve results
Other NIGCOMSAT board members are Ms. Abimbola Alale (Secretary to the board who is also the CEO/MD of NIGCOMSAT), Mohammed Lema Abubakar (ED, Admin & Finance, NIGCOMSAT), Kazeem Kolawole Raji (ED, Technical Services, NIGCOMSAT), Hon. Samson Osagie (ED, Marketing, NIGCOMSAT), Hajia Binta Mohammed, Idowu Afe (Director ICT, Federal Ministry of Science & Technology), Ahamefule Onwukwe (Federal Ministry of Finance), Engr. Festus Daudu (Federal Ministry of Communications) and Representative from the National Security Advisor's office.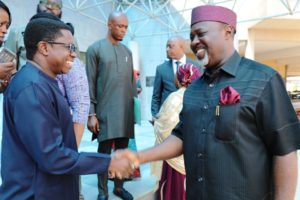 During the board's visit to NIGCOMSAT, Moghalu assured the management of satellite company led by Alale of the board's willingness to work with the team and ensure the company achieves its corporate goals.
Nigerian Communications Satellite (NIGCOMSAT) operates under the Federal Ministry of Communications as a limited liability company. Its mission is to be the leading communications satellite operator and service provider in Africa. It operates the NigComSat-1R satellite in space and has plans to launch two others in partnership with China.  NigComSat-1R has satellite footprint across Africa and parts of Europe and Asia.