VT iDirect, Inc and Nigerian Communications Satellite Ltd (NIGCOMSAT) are to deepen their business relationship to allow NIGCOMSAT better meet its growing customers' expectations.
VT iDirect is a global leader in the provision of satellite communications technology solutions. The company offers IP-based satellite communications, network management, hubs and line cards, satellite remote routers, among other services. Founded in 1994, VT iDirect has enabled partners including NIGCOMSAT to "deploy advanced satellite services that profitably expand their businesses."
NIGCOMSAT plans to accelerate its market footprint and services in the next few months across the continent; it will foster new partnerships and consolidate older ones such as with VT iDirect for its new growth plans.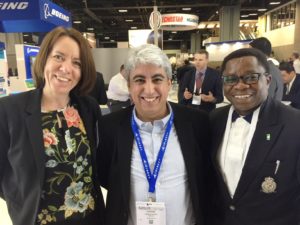 The publicly owned satellite communications company which operates the NigComSat-1R satellite delivers series of services that include Direct-To-Home (DTH) broadcasting, Multimedia, Video streaming and Hotspot event services. Others are satellite broadband delivery and bandwidth leasing for customers in Africa and Asia on its Ku-band, C-band and Ka-band platforms.
"We will be leveraging your robust technology to advance our market," said Executive Director, Marketing at NIGCOMSAT, Samson Osagie to Director, System Engineering at VT iDirect, Hassan Aouisse, during a short engaging meeting inside the VT iDirect boot-stand at the just ended SATELLITE 2018 in Washington DC.
"VT iDirect is glad to support NIGCOMSAT with our advance technology features  able to provide you with wider choice and flexibility to significantly reduce the complexity of enterprise and consumer broadband deployment for your clients," said Aouisse in the meeting that was also attended by VT iDirects's Senior Director, Product Marketing, Nikole Kromer.
iDirect Extends its iQ Remote Portfolio
Meanwhile, ViaSatellite, the official publication for SATELLITE 2018, VT iDirect announced it is extending the iQ Remote portfolio with three new series: the iQ 200, the iQ 800 and the iQ 1000, which will deliver higher throughput rates and new  features for enterprise, telecommunication, aerospace, maritime and land-mobility markets. The iQ Series is VT iDirect's next-generation DVB-S2/DVB-S2X remote portfolio, designed to meet the needs of both fixed and mobility networks across desktop, rackmount and board-level form factors.
According to VT iDirect, the iQ 200 Series is planned for cost-effective enterprise and maritime applications to satisfy the need for higher throughput applications, spurring growth markets such as fishing, small vessels, and offshore applications.  The iQ 800 Series is designed for high-throughput capabilities, featuring wideband support and seamless satellite beam switching, and is a multi-provider roaming solution. The iQ 1000 will serve the ultra-high-end mobility and telecommunications markets with extreme throughput requirements. Both the iQ 200 and iQ 800 Series remotes are targeted for delivery in 2018.
The iQ Remote Series will offer a range of bandwidth capabilities from 200 Mbps for the lower end of the spectrum to more than 1 Gbps for high-end applications. Software licensing allows partners to customize iQ remotes in various form factors to their specific throughput and feature needs, the company stated.
"The iQ Series takes everything we do to the next level — raising throughput rates to unprecedented levels, transforming how we provide our technology to partners, driving down infrastructure costs, and accelerating innovation across the ecosystem," said Toni Kousiafes, VT iDirect's vice president of product management.