By Chinedu James
Businesses set up by women in Nigeria over the next five years (by 2022) can unlock about N19.7 billion for the economy and create about 8.9 million additional jobs, a recent study conducted by Facebook in partnership with the Development Economies, a research consultancy firm has shown.
The report by Facebook indicates that economic challenges in most developing countries like Nigeria can be abated if there are investment opportunities for female entrepreneurs and an environment that allows women to be positioned to drive growth.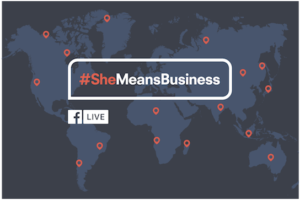 The social media giant disclosed plans to produce entrepreneurs that will be drivers of the economy with the birth of an initiative, #SheMeansBusiness Nigeria in partnership with She Leads Africa (SLA).
The initiative being the first to launch in Sub-Saharan Africa is intended to groom female entrepreneurs across the country to build and start their own businesses in a series of workshops across six cities in the country including Lagos, Kaduna, Port Harcourt, Ibadan, Abuja and Aba.
Facebook Public Policy Director, Africa, Ebele Okobi stressed that there is a need to spur women on in becoming business owners and entrepreneurs as they are crucial to economic growth  and powerful engines of development in Africa.
"We know that when women do better, economies do better", said Okobi.
"The new study suggest that an estimated seven million new businesses could be set up by women in Nigeria by 2022– placing a greater importance on the role of women's entrepreneurial ambitions for overall economic and social development in the country," added Okobi.
Similarly, the Co-Founder of She Leads Africa, Afua Osei emphasized that with the right and enabling environment, women can lead the charge towards economic advancement while expressing delight at the partnership.
"We're excited to continue our partnership with Facebook to expand access to the digital skills necessary to move African businesses forward.
We know that with the right tools and support, African women can compete on a global level and we look forward to taking these critical digital tools to entrepreneurs all across Nigeria," she said.
To kickoff the partnership, a #SheMeansBusiness website will be created to supply women with the tools and resources as well as courses that will provide them with the support needed to grow and develop their businesses.
In a recent release by the Mastercard Index of Women's Entrepreneurship (MIWE), Africa has been described as a World leader in women business owners with Ghana having the highest percentage of women business owners worldwide and Botswana, Uganda, South Africa and Ethiopia among Africa countries that promote women entrepreneurship.
The report reveals that 46.4 percent of businesses in Ghana are owned by women with Nigeria also scoring high in terms of advancements outcomes (degree of bias against women as workforce participants, political and business leaders, as well as the financial strength and entrepreneurial inclination of women).
Despite the positives surrounding women's inclusion and participation in the economy in Africa as entrepreneurs and business owners, there is a call to accelerate the position they currently hold.