Nigeria's foremost tech innovation hub in the north, nHub is opening its new outsourcing center to serve the rising local and offshore demands for high skilled labour.
The new outsourcing center is housed within nHub in Jos, Plateau State as part of the extension the innovation has been undergoing in recent months. The opening of the outsourcing center is also the next phase in the nHub's growth plans.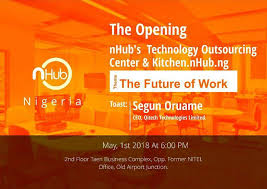 "The new space is meant for only developers who have been onboarded for remote jobs while the third floor is for training and entrepreneurship activities," said founder and CEO of nHub, Daser David.
"As you know nHub is engineering focused. Our intention to building tech products for the markets of Lagos, Abuja and major cities in Nigeria and Africa at large has evolved. Jos is blessed with massive youth presence, most of which are un-employed. Over three years we have been re-skilling these youths into becoming software craftsmen, however the next challenge is how to go about it.
Do we just get them Jobs in Lagos or Abuja or Port harcourt? We thought that would also be robbing the state of these talents, capital flight? And also because we want these trained youths to be mentors to upcoming youths, sending them out is not going to sustain the ecosystem. Our best bet is to offer them on remote placements, knowing that we would still have them to inspire the next cohorts.
"So we took this option. This year alone we receive calls on daily basis for their service. Our goal is to breed the best software engineers in Africa and with our business model have Jos become the next stop place for developers and great products. So we have created a new office, same building with nHub. nHub was originally occupying the third floor of that building. We have added the second floor … for our tech outsourcing business as another arm of the hub, so that while the hub continues its usual entrepreneurship activities and training, this arm  handles the remote hire and onsite demands of most companies coming in on a daily basis. Our last fellowship program has proven successful as placements are getting real," writes David in an email to IT Edge News on the organisation's added window for capacity training and job placements in Jos.
Since nHub opened shop about three years ago, it has steadily become a major training ground for hundreds of young people in software development. It has also gained traction over the months as a recruiting space for tech skills as the hub increasing provide trained hands for the job markets within and outside Nigeria.
"Without grant one of nHub's strategies at becoming sustainable and also to become the biggest innovation hub in Africa in terms of human capital is in the outsourcing of its tech community to various tech companies in Nigeria ….We are also making nHub a one-stop place for Artificial intelligence services as we are currently grooming our engineers and researchers into becoming AI experts. It means we would start providing AI services to the entire world." The outsourcing facility also has a 'Geek Kitchen' to serve the tech community and outsiders
Expected at the official opening of the nHub Outsourcing Centre are government executives, policy makers, top executives of private companies in Plateau State in an opening cocktail.
A cocktail presentation on "The Future of Work" is to be made by the CEO of Qitech Technologies Ltd, Mr. Olusegun Oruame, to draw stakeholders' attention to the evolving workplace and the direction of the global skill market.