By Oluwatobi Opusunju and Chinedu James
The Nigeria Labour Congress (NLC) on Monday began the shutting down of MTN Nigeria offices across the country over alleged anti-labour practices being perpetrated by the telco.
According to officials of the congress and other concerned bodies, the shutting down of MTN offices across the country was as a result of the telecom giant's refusal to allow its members to participate in unionism.
But MTN Nigeria has officially denied this, stating that it also owes its employees the obligation to ensure they are not compelled to join associations.
The labour union has asserted that MTN not only disallows its staff  from participating in unionism, it also has been paying its workers below national minimum wage and laying off staff members arbitrarily without benefit against civilized labour practices.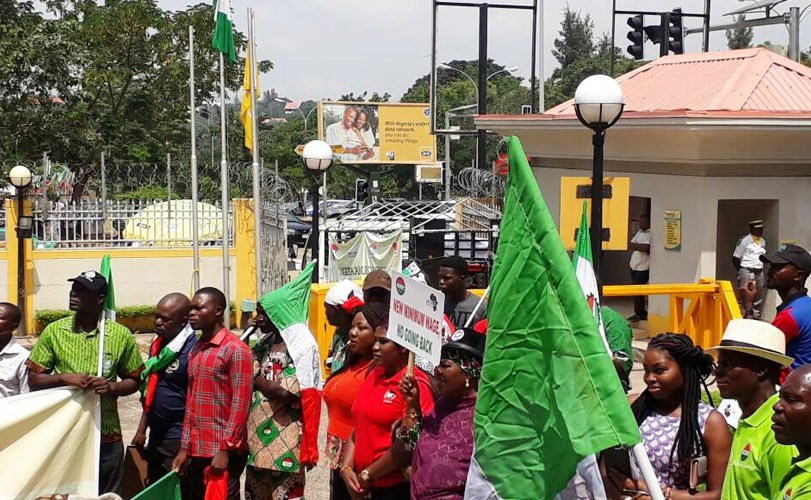 An NLC banner seen hung on the gate of most of the affected MTN offices read: "Nigerian Labour Congress says no to MTN Anti-Labour Stance in Nigeria."
"MTN has been countering our decisions, which haven't been favourable to both the union and the members of staff. In South Africa where they came from, their staff are participating in unionism but they are not allowing that in Nigeria.
"They are taking us for granted here in Nigeria and that has to stop. There should be equal right for all across the globe. This picketing is taking place across all the states where MTN offices are located and the sealing off is going on simultaneously," the Chairman of National Union of Postal and Telecommunications Employees (NUPTE), Olajuwon Olaide said.
According to the officials, the demonstration which started on Monday 9th of June will last for three days. They said a next line of action will be considered if MTN does not give in to the demands.
Meanwhile, a Twitter user @DoubleEph shared a chat (DM) of one of the staff members of the company explaining NLC's shutting of their offices.
"Our head office and several other MTN locations nationwide are under attack by hoodlums under the guise of picketing during the NLC strike.
"The hoodlums have damaged our CCTV cameras, beaten staff and forced us inside the office. Now they want to shut down our servers and shut down the network across Lagos," said @DoubleEph.
NLC vandalizes our installations, MTN 
MTN's official reaction has alleged that some of its staff members were attacked by NLC officials.
In the statement signed by the Corporate Relations Executive, Tobechukwu Okigbo, MTN insisted that it did not prevent its employees from associating with unions or forming one as they deem fit, while also stating that it also owes its employees the obligation to ensure they are not compelled to join associations.
"As always our primary concern is the safety and well-being of our employees, some of whom were attacked by supposed NLC operatives and have sustained injuries.
"MTN supports the freedom of association as enshrined in the Nigerian Constitution. We will continue to champion our peoples' rights, whether they are part of a union or not and work hard to minimise disruptions in service to our customers," the statement read in part.
The Association of Licensed Telecom Operators of Nigeria (ALTON), umbrella body for mobile operators, has similarly condemned the NLC's action.
ALTON reacts – Picketing of an ALTON Member
News of the picketing of the offices and disruption of operations of one of our members has been brought to our attention.
ALTON is very concerned about this unfortunate development.
Members of ALTON are law-abiding organizations who are committed to best practices in all areas including labour related matters. As responsible corporatecitizens, our members have always provided platforms for their employees to associate freely in accordance with the law and the constitution.
Employees of our members are able to join or form associations and unions if they so desire.
However, the practice is that membership of any associations and unions are voluntary. In line with fundamental human rights regarding freedom of association as guaranteed by the constitution, individuals must not be compelled to join an association or union if they do not choose to do so.
Picketing of such nature as reported, leading to injury to persons and damage to properties, creates an unfortunate situation where employees are coerced to join unions and associations without respect for their individual rights of voluntary association.
Damage to any Telecom Facilities will lead to the disruption of critical national security and economic services which will expose innocent citizens to great danger.
Attempts have been made to disrupt the network operations of some of our members through the shut down and vandalisation of critical network facilities. The implication of such disruption will lead to severe poor quality of services with attendant national security implications and far reaching implications on other services that are dependent on the telecommunications industry.
We hereby strongly request government and its law enforcement agencies to intervene expeditiously, otherwise we will advise our members to consider preventive shut down in order to avoid further damage to network facilities.
We trust parties will respect each other's constitutional rights in the interest of our nation Nigeria.
Engr. Gbenga Adebayo
Chairman
Association of Licensed Telecom Operators