By Oluwatobi Opusunju
Government workers in Nigeria now have a technology aided window to enhance their capacity while not staying off their jobs. The Public Service Institute of Nigeria (PSIN), Nigeria Communication Satellite (NIGCOMSAT) Ltd. and Sawtel Technological Ltd. have signed a tripartite agreement for the implementation of e-learning management system for public servants in Nigeria.
Speaking at the ceremony this week at the PSIN headquarters in Abuja, the institute's administrator, Dr Abdul-Ganiyu Obatoyinbo noted the importance of ICT in manpower development, stressing that the agreement will allow institute deploy ICT to train civil servants simultaneously regardless of their location.
"Today, it is a known fact that without ICT in today's world you cannot make impact. Public service has the mandate of training and we cannot achieve that without ICT. We'll definitely need ICT infrastructure to execute these training because we cannot bring everybody here physically. But we're here to achieve the target that we want to in all our economic industries which includes the ease of doing business. ICT is key, even the strategic plan approved by the Federal Executive Council (FEC) as projected by the government, it shows that ICT is the central key," said Obatoyinbo.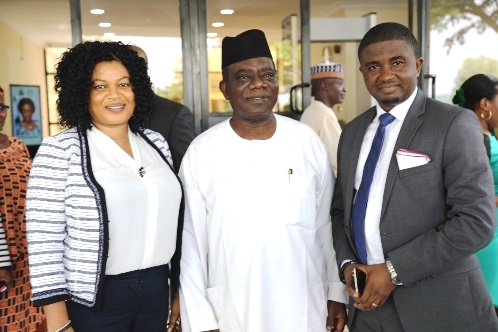 "We strongly believe that by the time this infrastructure is in place in about six weeks we should start seeing some immediate results. I am confident that by the time the e-business rating is carried out under the next assessment, Nigeria would have risen up to about 50 – 60 ranges. Because when you train a staff you get the results. Capacity building has to be in place to make it happen," he added.
In her remarks, the Managing Director of NIGCOMSAT, Abimbola Alale expressed NIGCOMSAT's willingness to partner with PSIN and Sawtel to take the institute to greater height.
"I congratulate you because you are expanding the horizons of not just only the civil servants but the military, paramilitary and so many other agencies that want to push governance, and you are utilizing the best instrument available right now globally, ICT, to train them because ICT is currently the main driver in the world today.
"You are not only being ICT compliant but you are also saving lives of people travelling long distance to come here, and also saving government resources because with this agreement people can remain at their location, receive the same content, same information for training and seat for exams simultaneously," she stated.
Managing Director of Sawtel Technologies, Mike Amanyi while speaking said the organization brings a multi-tenant learning management system that would enable PSIN to deliver training concurrently to as many as over a million users globally to the partnership.
"We're also using this system to put them on the world map as one of the foremost, leading training service providers globally," he added.