By Chinedu James
Zone Tech Park, Nigerian Business to Business (B2B) venture builder has launched its ICT innovation hub in Lagos to enable startups with great products, ideas and solutions make a go at the global marketplace.
The formal launch in Lagos, Nigeria's commercial capital of over 18 million people, brought together  entrepreneurs, industry stakeholders, business leaders, tech enthusiasts, thought leaders and the media. The new facility will also host co-share workplaces and a 700+ seater conference centre.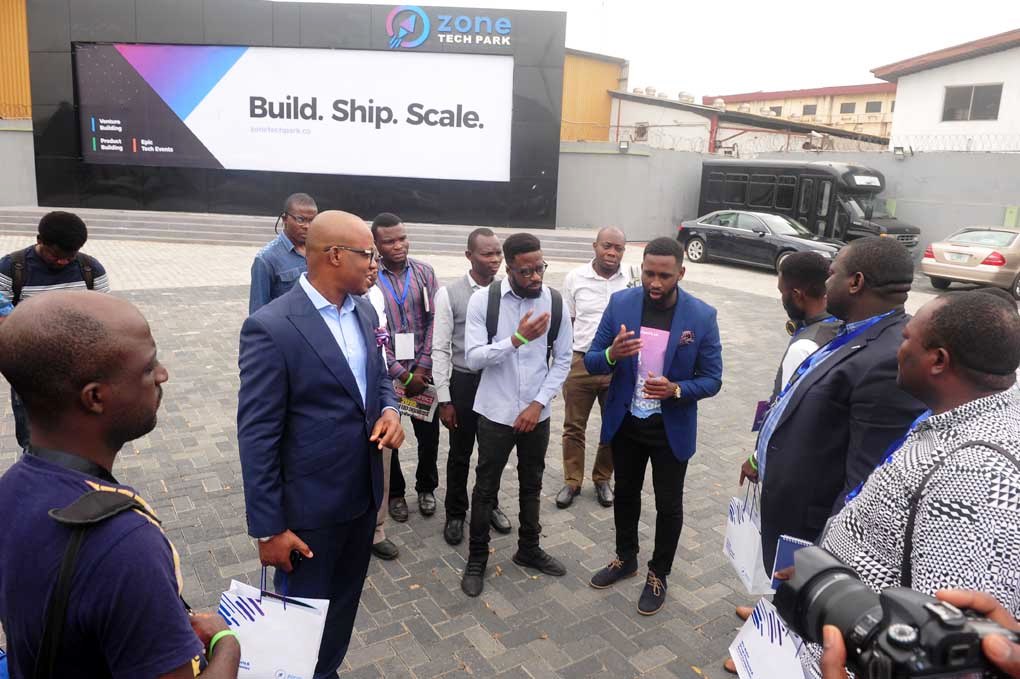 With an investment of about US$6.5 million (about N2,359,500,000 billion), the new hub is touted to be Nigeria's largest tech hub and has plans to upscale significantly within the next few years. The hub is looking to invest and enable more startups and businesses.
Founder, Bolaji Olagunji said the competitiveness of a nation hinges on its capacity to create products for its immediate challenges and for other nations of the world. He also noted that competitiveness is critical to a nation's growth and development.
Zone Tech Park is looking to redefine the country's competitive edge and tech ecosystem, said Olagunji. His words:
"The competitiveness of a nation is how productive the nation is. We at Zone Tech Park want to build an ecosystem for business and ventures, turn ideas into products, scale them to employ millions of workforce. We also want to support corporations strategically to scale exponentially.
"Zone Tech will change the status quote and help individuals and their businesses to realize their full potential through education, venture building and strategic enterprise support. Our priority is the success of the startups that work with us, their success is our success. Prior to the official launch, Zone Tech ran a small pilot program and has built two products so far; Peerless and Outwork," said Olatunji.
CEO, Zone Tech Park, Toro Orero, noted that a key challenge for startups is access to the market and this is one area that the park will address with her database of clients and investors while also empowering then with the knowhow tools. For him, questions about Nigeria's ability to meet the standards of Silicon Valley should not be the major concern rather creating new products and a sustainable business should lead the focus.
"Questions have been raised about Nigeria's ability to meet the capacity of Silicon Valley but it is not about catching up, it's about creating new products and solutions for the African and global market and creating a sustainable business. So we enable a startup, for instance, we don't just leave them there, we match them with any telco, bank or whosoever needs their services to create a big sustainable business," he said.
He further added that tech partners and founders would be able to access the co-working space for free although there would be a thorough screening of the startups and ideas before admittance. When asked how the hub intends to generate revenue, he stated that the hub would generate its revenue from minority equity and shares eventually when the startup succeeds and scale.
According to him, there is a plan for continuity within five years with a vision to take up more land space in Gbagada as the hub upscale. The hub also intends to enable over a dozen startup and innovators within the next 12 months.
Attendees explored the entire innovation hub and facilities which include the training rooms, research room, conference centres, audio and visual recording studio and innovation spaces. An exhibition of the already launched products. Peerless, Outwork and Cluster were featured.
Peerless is a Learning Management System (LMS) that simplifies the training of an organisation's employees. Developed to solve logistics and financial problems associated with employee development, it comes with at least 15 free courses which are chosen by the clients.
Cluster enables banks to efficiently manage and monitor the totality of their Automated Teller Machine (ATM) infrastructure and also help bank customers to conveniently find and get information of the dispensing status of nearby ATMs.
Outwork is a mobile platform for managing large distributed workforces and connecting the right people with the right work anytime and anywhere. Solving unemployment in Nigeria, Outwork helps organizations and companies create, assign, execute and report on thousands of tasks every day, generating real-time intelligence and allowing them to serve their clients better.