By Chinedu James
The website of the Small and Medium Enterprises Development Agency (SMEDAN), http://smedan.gov.ng/, has been hacked. SMEDAN is the agency responsible for promoting the growth of small and medium businesses through funding in Nigeria. The website is hacked by a certain Ismael Chriki raising further concerns on the security of web sites owned by public agencies.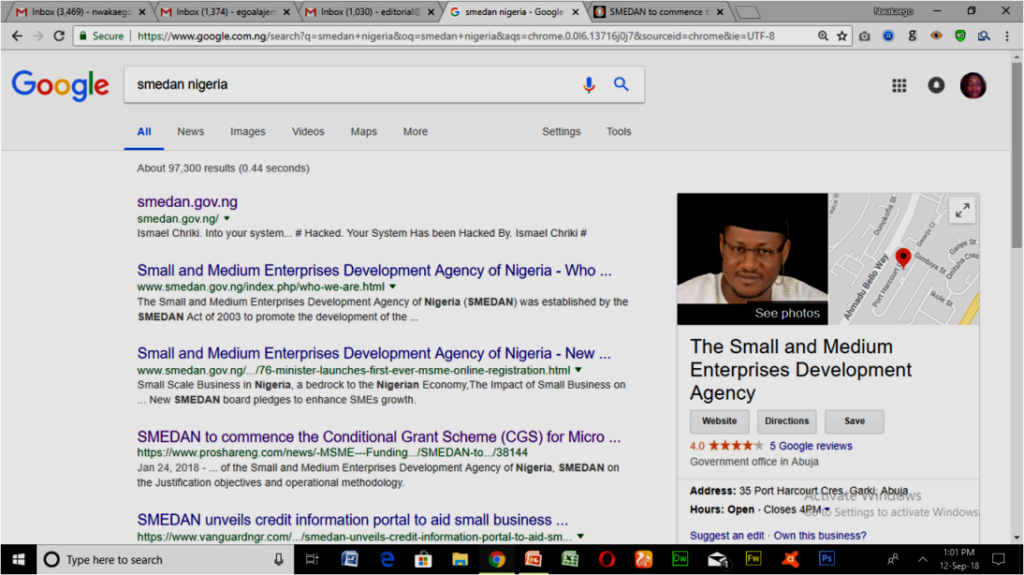 The intent of Ismael Chriki whose profile on Google clearly states 'hacker' is yet to be unravelled by the relevant authorities.
A Google search on SMEDAN shows: "Ismael Chriki into your system… #Hacked. Your System Has been Hacked by Ismael Chriki#". The same appears on the website's tagline, this shows that the website has been infected with malicious code.
This development spotted by IT Edge News, obviously exposes the vulnerability of the Nigerian cyberspace despite the warnings by several agencies and the diverse collaborations of authorities to counter the menace.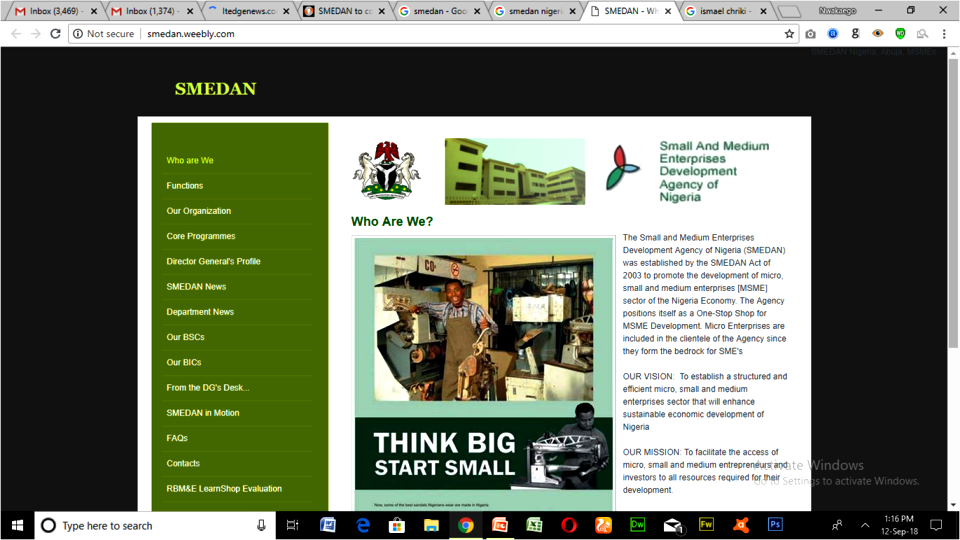 As at last night, efforts were still being made to restore the site when IT Edge News called the administrators.
In the interim, SMEDAN is only accessible online from a Weebly.com interface as it battles to restore its .gov.ng web presence.
"Weebly is a platform for e-commerce, websites and integrated marketing for creative entrepreneurs and small business owners. Weebly appears to be a temporary quick-fix for SMEDAN as it battles to restore its hacked site.
"Founded in 2007, Weebly allows anyone to start and grow an online business with curated website templates, powerful ecommerce and integrated marketing. More than 40 million entrepreneurs around the world use Weebly to grow their customer base, fuel sales and market their idea."
The National Information Technology Development Agency (NITDA) had earlier in the year issued a warning of looming cyber-attacks, alerting corporate Nigeria and provided cautionary steps in a press statement signed by its Director General, Dr Isa Ali Ibrahim Pantami.
With about 0.80% of Nigeria's GDP said to be lost to cybercrimes, in addition to the more than $649 million lost every year to cyber-attacks and another N237 billion lost by Nigerian banks to cyber fraud since 2007, experts have warned that Nigerian cyberspace needs to be proactively protected or risks more invasion by cybercriminals.
Stakeholders want the authorities to provide a more robust framework for the enhancement of national security and protection of the online community in Nigeria.