The National Information Technology Development Agency (NITDA) and the Information System Audit and Control Association, (ISACA) are to explore partnership to deepen capacity building in IT.
The executive members of ISACA were, this week, at the Abuja head office of NITDA on a courtesy and congratulatory visit as well as to seek the agency's support for its forthcoming 11th annual international conference.
While congratulating the Director General, Kashifu Inuwa Abdullahi, on his appointment to lead the government IT clearinghouse, the association said it was also seeking for sponsorship of its annual event.
Mrs. Iyabo Adedeji, who led the ISACA team, said that the association was excited over the appointment of Abdullahi as director general of NITDA "because he is a member of the association."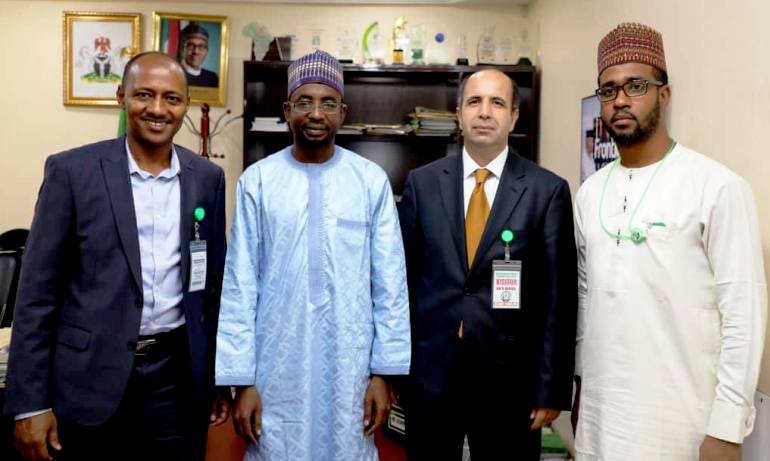 While inviting Abdullahi to the conference as keynote speaker, Adedeji said that NITDA occupies a very important position in the country's IT sector, hence the need for the NITDA's boss to set the tone for the conference.
Abdullahi assured the association of NITDA's desire to partner ISACA in order to explore the proficiency of its members to deliver on NITDA's seven strategic pillars especially on cyber security and government digital services.
"We look forward to partnering with you because we cannot do it alone. Our partnership with you is helping us to deliver on our mandates," said Abdullah.
"Our population is our greatest resource which could help us in moving to digital economy and the youths are resources that are easier to harness," he added.
He enjoined the association to come up with ideas that can fit into the agency's seven key pillars, while using the opportunity to invite the association to the forthcoming e-Nigeria 2019 Conference and Expo scheduled to hold in Abuja next month from 12th-14th November.
NITDA assures Nile Varsity of continuous support
Also, the NITDA's boss also hosted the Vice Chancellor, Nile University, Prof. Dr Osman Nuri Aras in the company of Dean, Faculty of Science, Prof. Mousa Mahmat. The duo was at the agency on courtesy visit to firm up the existing relationship between NITDA and the university.
Abdullahi commended the university and assured it of NITDA's continuous support for research and development initiatives within the academic community to boost growth in the ICT ecosystem.