From midnight of Thursday, April 9 to 11p.m. of Wednesday, April 15, 2020, Plateau State shall officially be locked down to allow authorities carry out a state-wide fumigation across the 17 councils. The total lock down is part of the curtailment strategies against coronavirus by Governor Simon Lalong as he deepens his multi-prong approach to taming the pandemic in that part of central Nigeria.
Violators of the order including place of worship shall face the full wraith of the law, the government warned while addressing the media in Jos this week to announce other measures the state was taking to tame the virus.
There are yet no reported cases of COVID-19 in Plateau State. But the state has ignited a state of preparedness weeks back beginning with restriction of movement, social or business gathering to not more than 50 people, partial closure of markets, and set up of both a COVID-19 Monitoring Taskforce and a Situation Room.
WHO warns of worsening global condition
As at this week, more than 238 people have tested positive for the virus in Nigeria with Lagos, the epicentre accounting for more 50% of the figures followed by Abuja. Five deaths have been recorded and more than 23 recoveries.
But the global figure is frightening. More than one million people have tested positive and over 50, 000 deaths have been recorded with more than 200, 000 recoveries on an encouraging note.
While the world chases for a vaccine, the World Health Organisation (WHO) has warned of possible deaths spiking above one million and a total collapse of the global health industry to leave billions vulnerable to the infections.
Lalong: No total lockdown, no fumigation
Lalong stressed that if there was no total lockdown, it would be difficult to carry out the fumigation exercise and enhance the preventive measures already put in place.
"The lockdown is very important. The fact that Plateau has not recorded any case of the pandemic does not mean that we are free from the virus.
"The treatment of the pandemic is very expensive. It is better to enhance the preventive measures. Apart from fumigating the state, during this period, there will be general testing," said Lalong.
A test laboratory for COVID-19 is expected to be fully operational this month in Jos. In addition, the state is supporting indigenous solutions to the provision of ventilators and also encouraging software developers to provide innovative ways of monitoring, tracking and remotely provisioning medical assistance to likely infected citizens.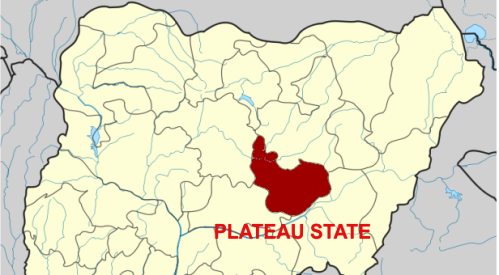 TALKING POINTS FOR PLATEAU STATE GOVERNOR, HIS EXCELLENCY RT. HON. SIMON BAKO LALONG AT A MEDIA BRIEFING ON THE PROGRESS REPORT ON THE FIGHT AGAINST THE CORONA VIRUS PANDEMIC (COVID-19) 6TH APRIL 2020.
1. Since the outbreak of the pandemic, the government constituted a monitoring and enforcement task force under my Chairmanship. The Task Force has the following sub-committees:
i. Awareness and advocacy
ii. Medical Facility Management and Health Services
iii. Enforcement
iv. Border Management and Traffic
v. Secretariat and Logistics
2. A situation room was also created under the Secretariat and Logistics Committee to collate information and monitor activities of the various committees and the Local Governments.
3. These five sub-committees were replicated in each of the 17 Local Government Areas with the Executive Chairmen heading the Central Committees.
4. The Covid-19 Taskforce under my Chairmanship meets every day to receive briefs, analyse and review strategies of the entire response.
5. We had set ground rules for general observation e.g. sanitation and personal hygiene; crowd control of not more than 50 people; maintaining of social distance of 2 metres and 5 metres apart for traders selling food items.
6. I also undertook a facility tour of Plateau Specialist Hospital, Jos University Teaching Hospital and Bingham University Teaching Hospital to assess the state of medical facilities and capacity to respond to Covid-19 pandemic.
7. After receiving complaints on insufficient respirators and other essentials, I immediately directed the purchase of some ventilators, which are being received at the moment.
8. We also purchased Personal Protective Equipment (PPE), Monitors, Infrared Thermometers, Oxygen, Concentrators and other essential drugs. We are looking inwards to improve what we have on ground.
9. In particular, one of our sons who has continued to make in-roads in innovation, Engr. Jerry Mallo has been engaged to produce ventilators while the duo of Engineers Nura Jibrin and William Gyang have resuscitated broken down ventilators at JUTH. We are grateful to them.
10. We are also taking steps to establish more Covid-19 Isolation Centres in Pankshin and Shendam to cover the other Senatorial districts in the State.
11. In line with the Federal Government Directive, we propose to establish a 300-bed Treatment Centre to be located at the Riyom General Hospital and the State NYSC Camp.
12. The State Emergency Operation Centre at the Epidemiology Centre Jos, was activated and is now functional.
13. Information and Sensitization Committee had embarked on dialogue and interface with Local Government Chairmen, Traditional, Religious and Community leaders to get them on board in the fight against the disease.
14. In the course of implementation, all markets were closed except those selling food items, pharmaceuticals and other essential items. We also put a ban on all anniversaries and cultural festivals.
15. Vehicles were also restricted to carry 1, 4 and 6 passengers (i.e. Keke Napep, Cars and Buses) respectively.
16. So far, we have recorded 48 suspected cases which were investigated and all found negative. Total discharge from self-isolation are 25 while 8 are still under surveillance. Our surveillance team already in place will continue to be vigilant in identifying cases.
17. We had established checkpoints at entry points to the State to enable health officials conduct preliminary screening of commuters.
18. Based on further developments, we announced the closure of all border routes to the State, which took effect from 29th March 2020 to further strengthen the capacity of our health officials to concentrate on the situation within the State.
19. Monitoring and Enforcement is still going on and we are recording substantial compliance. However, the few cases of disregard for the order are being handled by the security agencies.
20. With all these, Government has concluded plans to carry out a State-wide fumigation exercise which will cover Jos-Bukuru Metropolis and all the 17 Local Governments Areas of the State.
21. To this effect, I am directing a total lockdown, effective 12 midnight of Thursday 9th April 2020 to 11pm of Wednesday 15th April 2020.
22. During this period, there will be no movement of any kind except for staff on essential duty. These include:
Security Agencies; Medical and Health workers; Power and Energy Staff; Fire Service; Media; Telecom Operators; Fuel Tankers.
23. At this point, let me express our deep appreciation to Corporate organisations and individuals that have so far contributed to the Plateau Covid-19 Endowment Fund both in cash and in kind.
24. We thank Grand Cereals, NASCO Group of Companies; Zuma Steel West Africa; Nigerian Veterinary Medical Association; ASUU University of Jos Branch; Senator Hezekiah Dimka; Mees Palace; Godiya Hotel Heipang; Bar. Pius Akubo (SAN) and the UBA for their various contributions.
25. In all the operations so far, a number of challenges have arisen which we are working hard to address in conjunction with key partners including the Federal Government.
26. Some of the challenges include lack of at least a Diagnostic Centre despite the State having Grade 3-4 Diagnostic Centres. We are liaising with the National Centre for Disease Control (NCDC) to ensure that Plateau State to get a centre soon.
27. We need more Personal Protective Equipment, which we hope to also complement by producing locally.
28. Because of the enormity of the challenge we are facing, the State is liaising with the Federal Government with a view to implementing palliatives to deal with the pandemic.
29. As I ask our citizens to continue cooperating with us in these difficult times, I wish to commend them for their patience and resilience. Working together, we can overcome this monster that is ravaging the world.
30. I also wish to commend citizens who are using the Covid-19 Plateau Platform in reporting incidences directly to the situation room, which has enabled Government to take timely action.
31. The media has also played supportive role and we appreciate your efforts.
32. Thank you.
Rt. Hon. (Dr.) Simon Bako Lalong KSGG
Executive Governor, Plateau State
6th April 2020.