OPay has shut down all its business units in Nigeria. It is retaining only its financial technology services where it recorded a 44% growth between January and April 2020.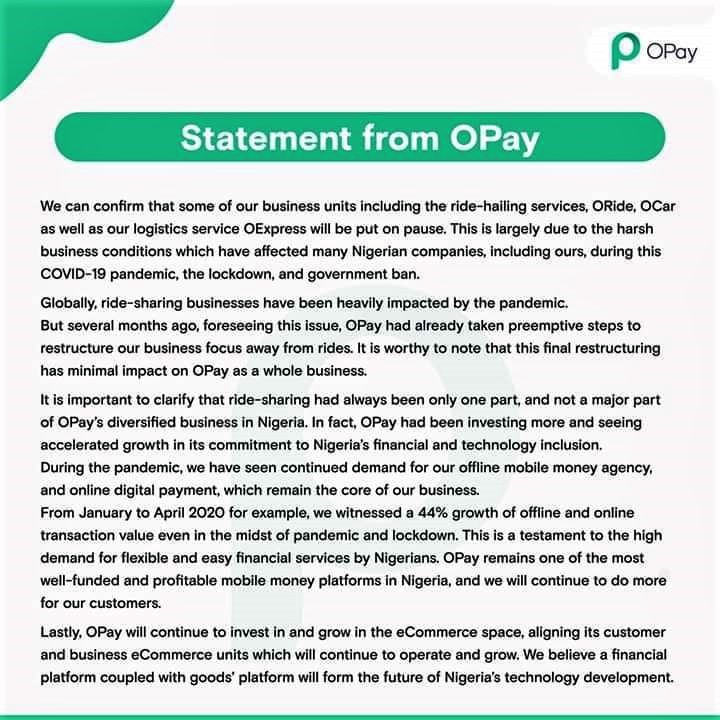 The Chinese-owned African fintech startup is blaming "harsh business conditions, COVID-19 pandemic, lockdown and government ban for ending its operations in Nigeria.
"We can confirm that some of our business units including the ride-hailing services ORide, OCar as well as our logistics service OExpress will be put on pause," the company stated this week in Lagos.
But it is retaining and expanding its financial technology services in Africa's most populous country of over 200 million people as the company says it sees a future in this market.
"OPay had been investing more and seeing accelerated growth in its commitment to Nigeria financial and technology inclusion.
"During the pandemic, we have seen continued demand for our offline mobile money agency and online digital payment, which remain the core of our business.
"From January to April 2010 for example, we witnessed a 44% growth of offline and online transaction value even in the midst of pandemic and lockdown.
"OPay remains one of the most well-funded and profitable mobile money platforms in Nigeria and we will continue to do more for our customers," the company affirmed in its statement.
A mix of factors including fiery market competition and government ban of motorbikes for commercial transportation had meant the end of business for the company's units that include: Oride, its bike-hailing platform; Ofood, its on-demand food delivery platform; Ocar, its cab-hailing platform and Oexpress, its logistics platform.
Opera founded Opay in 2018. The platform started operations in Nigeria with a $50 million funding that was raised in June 2019. It further raised $120 million funding from Chinese investors to expand its services to include Oride, Okash, Ofood, Owealth, Omall, Otrade, Olla and Otrike.
Funding also allowed it to scale its operations beyond Nigeria into Kenya, Ghana and South Africa. It has either shut down or remodeled its operations in all these markets.