Internet of Things (IoT) technology is redefining the oil and gas industry and steadily helping to save billions of dollars for many active players in the sector. IoT will be a key driver in Nigeria as the largest producer of oil in Africa, said Executive Chairman, IoT Africa Networks Ltd, Lare Ayoola, during a recent webinar on technology transitions and challenges in Nigeria's oil & gas industry.
The business of extracting, storing, and transporting resources for oil and gas operations is riddled with challenges and exciting opportunities. Oil and gas companies lose billions of dollars every year due to non-productive time (NPT) events such as pipeline explosion, vandalism, asset breakdown, etc.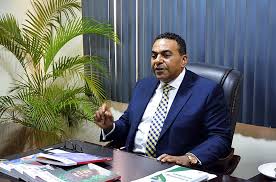 To stay competitive, companies in this industry must continually innovate to produce crude oil and refined products at a lower cost.
As the largest oil producer in Africa and the 11th largest world, Nigeria continuously aims at generating higher profits year-on-year through efficient oil and gas industrial processes. This is important considering the oil and gas industry accounts for about 95 percent of Nigeria's foreign exchange earnings.
Oil and gas companies typically have numerous remote assets that require monitoring which increases operational expenses. Traditionally, these assets utilize the following monitoring systems:
Programmable Logic Controller (PLC) systems: The cost of setting up a wired system is typically quite high.
Satellite Communications: Requires numerous expensive satellite communication links to deliver information.
Physical Monitoring: A substantial amount of effort and manpower is required to monitor oil and gas fields.
Webinar on 'Digitizing The Oil & Gas Sector with IoT'
In a bid to address the challenges facing the industry, IoT Africa Networks Limited held a two-part webinar series tagged Digitizing The Oil & Gas Sector with IoT with more than 250 industry experts in attendance. The event took place in August 2020 and was in conjunction with OleumTech, AIUT, and SeongJi.
During the series, Ayoola outlined how oil and gas companies can save 10% to 40% of operational expenses and increase efficiencies upwards of 25% by using real-time data to monitor assets, predict breakdowns and schedule preventative maintenance.
A study from Schlumberger stated that their company stands to save upwards of $290 billion by becoming a digital-first operation.
The webinar shed more light on how IoT-connected wireless technology is helping the oil and gas companies optimize their pumping operations; maintain the pipes and wells; monitor equipment failures and gas leaks; monitor pipe pressures and temperatures; and erosion in a refinery.
IoT technology can eliminate 80 percent of theft losses in Nigeria
"IoT Africa Networks Ltd, in partnership with Sigfox, enables you to observe your entire asset tracking network be it industrial, commercial, business, or residential in a convenient and budget-friendly manner. You might not be able to rely on electricity in Nigeria, but you can rely on Sigfox. This is because the Sigfox devices can be powered without electricity. Their battery life can last for more than four years on a single charge," said Ayoola during the webinar.
Senior Vice President, OleumTech Corporation, Brent McAdams, also shed more light on how tapping IoT connectivity in oil & gas can fuel higher performance and increased revenue.
Other presentations from Vice President, AIUT, Marek Gabryś, and IoT Sales Manager, SeongJi, Brown Lee, explained how extremely safe and cost-effective Sigfox devices are when used to collect data from the field and transmit directly to the operator's platform.
Former Managing Director NAPET Telecoms NNPC, Anthony Okuyelu, and Managing Director, ARIL Technologies Limited, Adeshile Adetokunbo, discussed how companies can implement a successful digital oilfield and gas supply chain strategy during the panel session.
The experts submitted that IoT has come to stay and there has never been a better opportunity for industries to embrace the change IoT brings, save billions of dollars, and modernize their operations than now.
The IoT Africa Networks, Sigfox, Tranter IT, Oleumtech, AIUT, SeongJi partnerships are strategic and critical for the development of the oil and gas industry in Nigeria. The focus for IoT in Nigeria is for companies and cities to connect everything and stay in control of their assets and business operations, added Ayoola,
About IoT Africa Networks Limited
IoT Africa Networks Limited is the exclusive Sigfox Operator in Nigeria. We are deploying the Sigfox LPWAN Network throughout Nigeria. Lagos, Abuja, Ogun, Rivers state are now smart-city enabled because of this. The IoT Wireless Telemetry is a game-changing digital technology for the asset management industry in Nigeria.